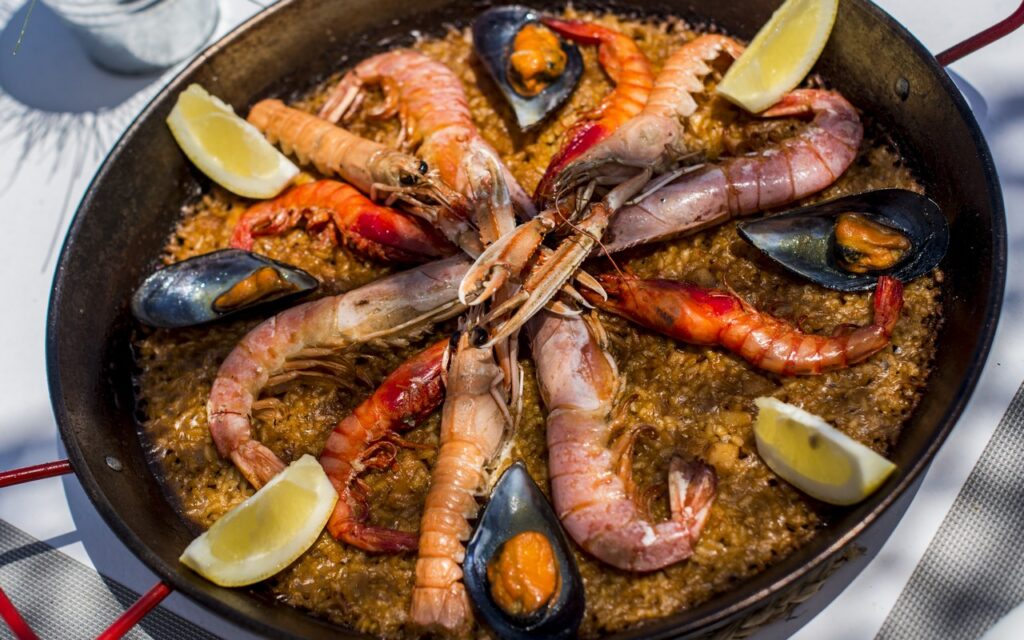 Ibiza's culinary delights are starting to garner more and more attention as the years go by, with the island's gastronomy scene now booming. It's no surprise – the fertile lands of this little paradise produce some of the most delicious produce in Europe. Over the years, we've been fortunate enough to try many a restaurant (some over and over again) together and these are our top 10 favourite dishes you'll find in Ibiza's restaurants.
1. Arroz de Matanzas, Cas Pages, San Carlos
This is as about as traditional as you can get. Cas Pages is a family run restaurant that has been feeding the hungry of Ibiza for over 40 years. Home cooked with loads of love the food here is simply wonderful. Arroz de Matanzas is a typical local dish of pork, fish or squid, chicken, sobrasada and saffron rice. Each family has their own secret recipe and the one from Cas Pages is out of this world.
2. Lamp chops, Balafia, San Juan Road
This is another place where it doesn't really matter what you order because it's all delicious. Balafia grill their meat over olive, carob and almond branches and every dish is served with a fresh tomato and onion salad and their thinly sliced, crunchy house chips. First timers – order the lamb chops. You won't be disappointed (or o home hungry!).
3. Paella de mariscos, Es Xarcu
For over 20 years husband and wife Mariano and Caridad have been serving up simple, authentic and classic dishes. Their focus starts and ends with quality produce and they are famous for their seafood paella. Tucked into the sands of Cala Es Xarcu they follow traditional methods with their own personal touch.
4. Mero al horno, Yemanja
There is no shortage of cool places to go along Cala Jondal but the baked grouper (mero al horno) at Yemanja has to be one of the best dishes you'll have along this stretch of super sociable sand.
5. Gambas de Formentera, La Noria
Sitting under the shade of the tree filled terrace overlooking the stunning Cala Boix is almost enough but when your waiter at La noria brings out the Formentera prawns with a chilled glass of wine you really start to understand the concept of heaven on earth.
6. Pan con tomate, Can Mayol
This is a classic Spanish breakfast dish. Crusty bread, rubbed with fresh tomato and a healthy splash of olive oil. Tasty, delicious and filling it goes down so well with a cafe con leche it really is the breakfast of champions. And for us, eating it at Can Mayol in Santa Eulalia is just like coming home to mama.
7. Jamon de Bellota, anywhere on the island
So, lets just have a quick rundown on ham. There is ham and then there is bellota. Jamon Iberico is the best cured ham in the world (let the Italians think that prosciutto is but we know better). Jamon serrano is not bad but once you've tasted the real thing it's hard to go back. And bellota – that the bee's knees of ham. Made from pigs fed exclusively from acorns it's creamy, melty and divine. Trust us…
8. Bio salad, La Paloma
This delightful family-run restaurant has such a wondeful menu it's hard to choose. The produce comes mainly from their own gardens and everything that can be made by hand is, and the staff are very knowledgeable. The Bio Plate is a vegan and organic dish of gorgeous dips, salads and crackers – healthy and delicious.
9. Tortilla Española, Can Cosmi, Santa Agnes
Spanish tortilla is the most comforting and tasty dish, perfect for breakfast or a light snack. Making the perfect tortilla is ultimate test of a very good cook and the tortilla at Can Cosmi in Santa Agnes is the best on the island. Who knows how they manage to consistently make the lightest and most magical of dishes? Does it matter when it's so enjoyable to sit on the terrace overlooking the almond orchards?
10. Mixed seafood grill, Fish Shack
Maybe this little restaurant nestled in to the rocks around the side of Talamanca beach has a real name but everyone on the island just calls it the fish shack. It literally is a shack overlooking the sea across the formidable vista of Dalt Vila. Serving up the freshest of fresh seafood it's a true Ibiza experience.
---