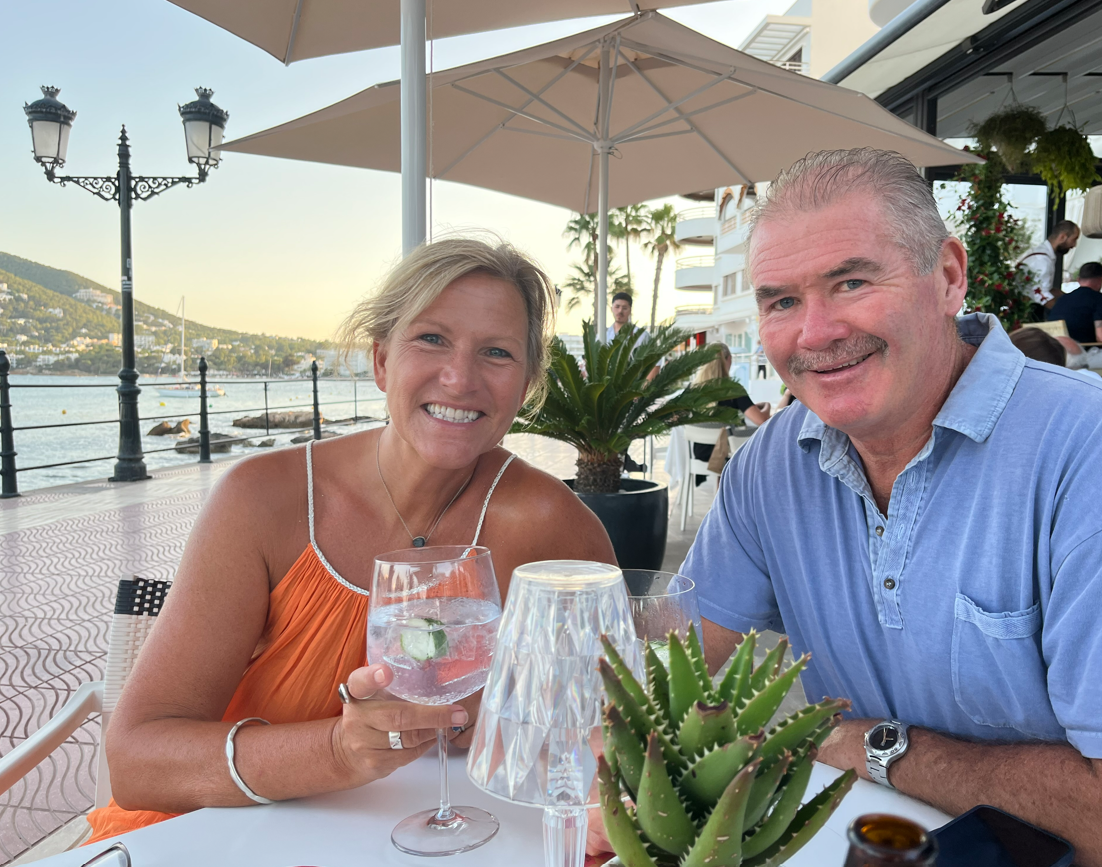 From first home to family home… and an island connection spanning a lifetime.
Maria has been coming to Ibiza since she was 6 years old. From summer holidays to elongated stays to permanent residence on the island, it's now time for Maria and her husband to move on, but the memories will always remain.
We spoke to Maria to find out more about her history with the island and about the amazing Villa Valentina.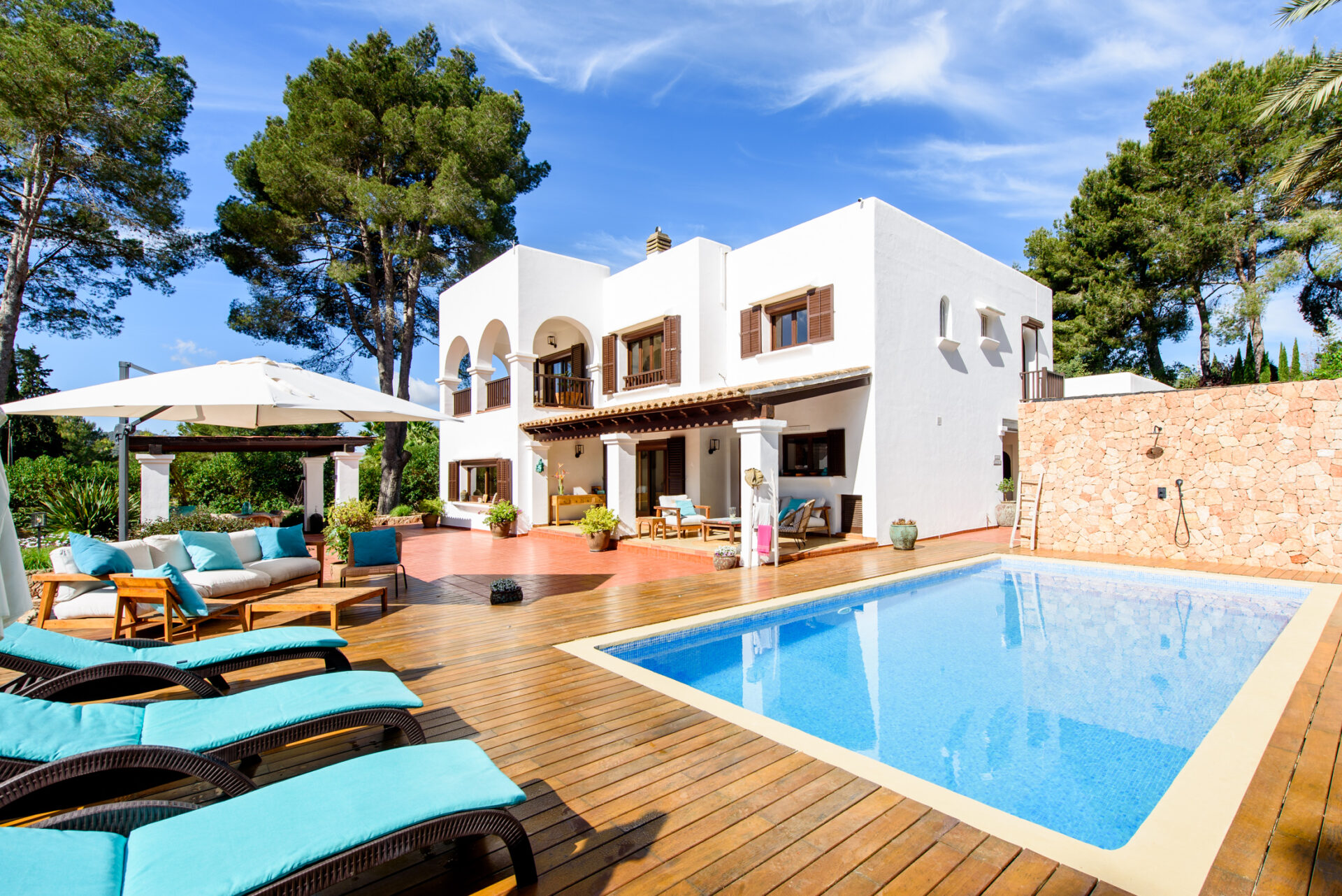 You previously bought and sold a house through Villa Contact. Can you tell us more about your experience?
Clea helped us find and purchase our first property here on the island in 2013. When buying for the first time there is a lot to learn about the Spanish system and Clea held our hands through the entire process. She understood that we were looking for something more rustic in style with a small plot of land and the potential to be our home in the future and she found it!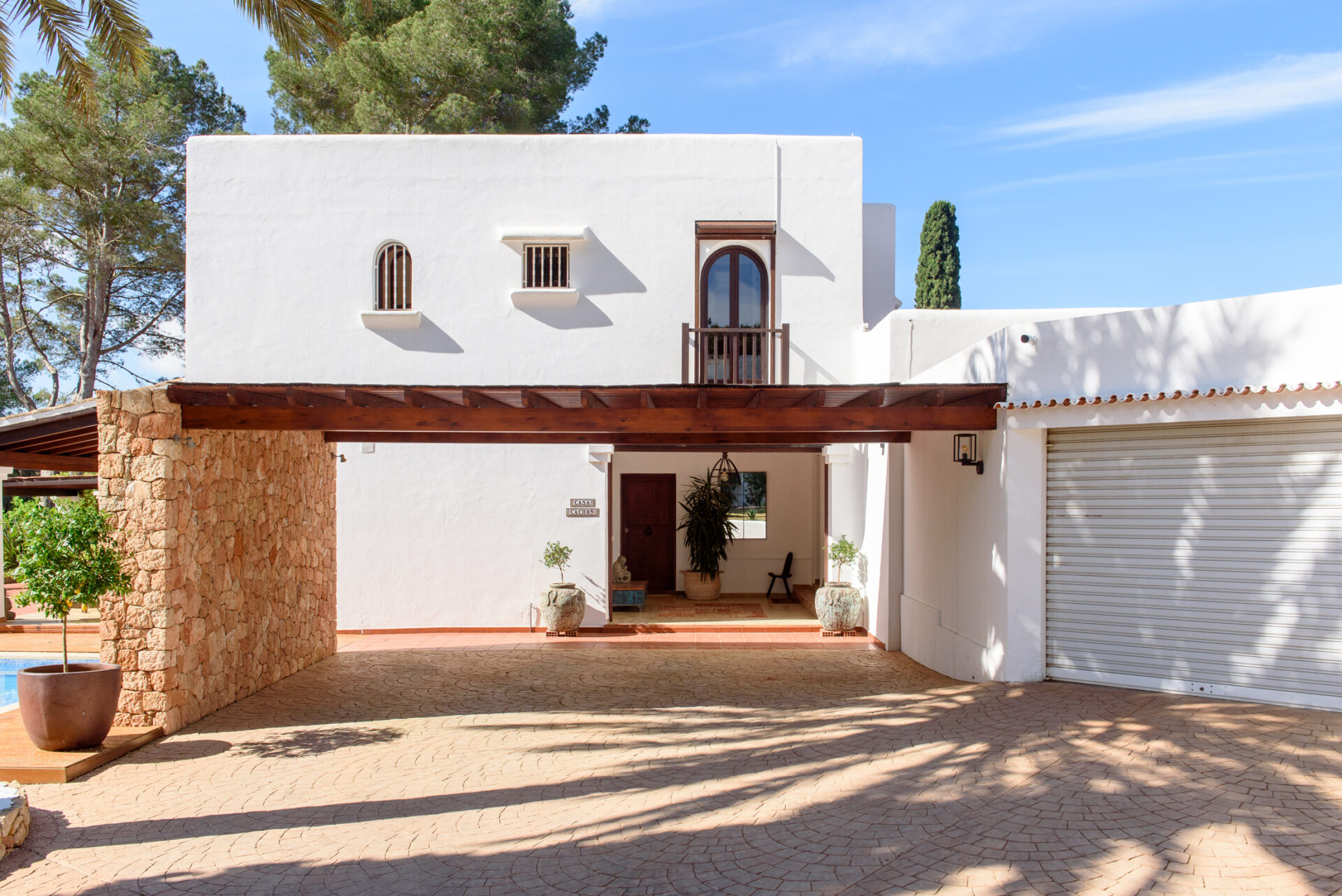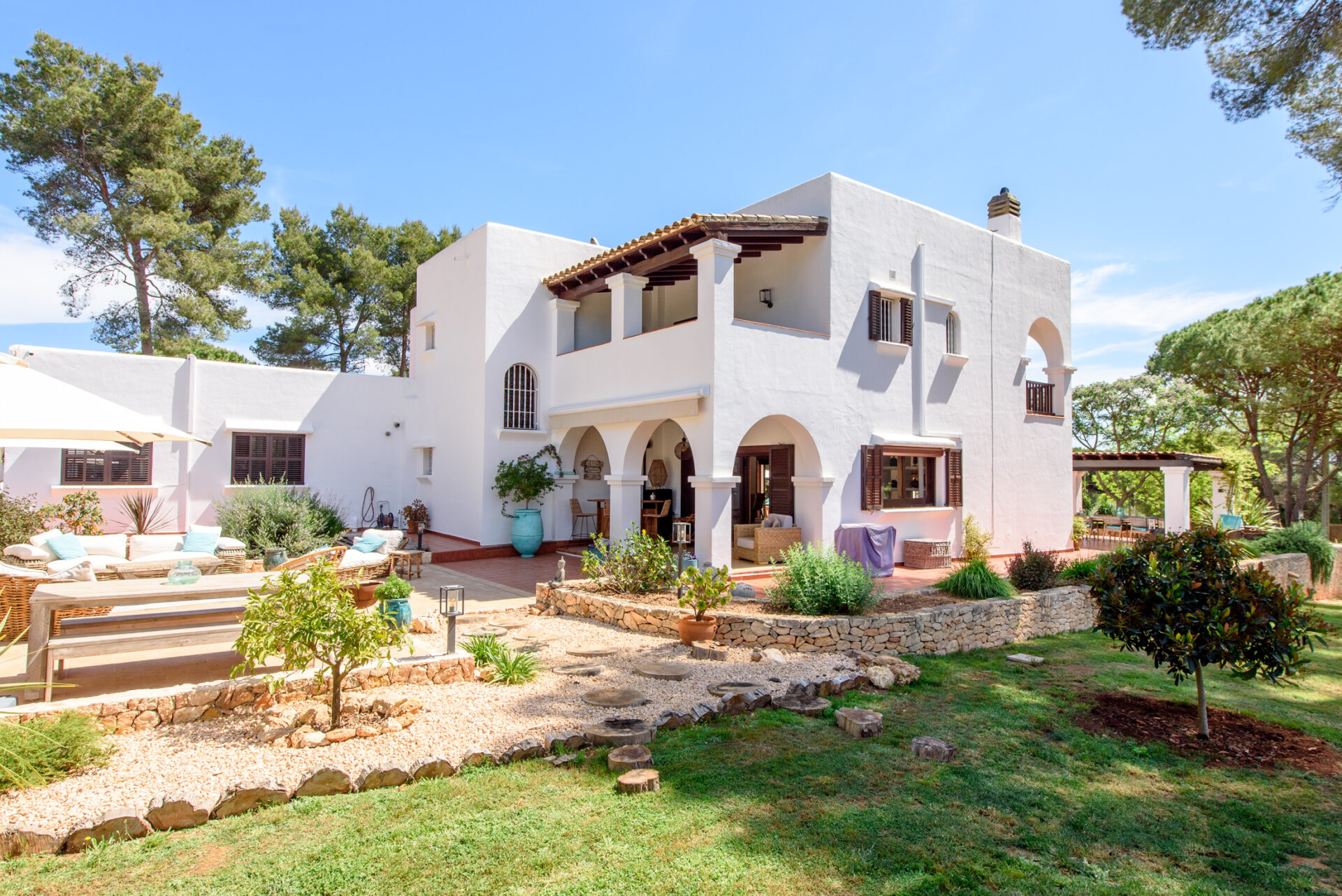 After 6 years in that property, we decided to look for something larger that would now be our main family home as we had decided to leave the UK totally following Brexit and selling my business – our dream of living permanently on the island was becoming reality.
Once again, we reached out to Villa Contact to not only sell our property but to find our next home; we love their personal service and know how well connected they are being a local family-run agency. They found our buyers and also showed us a property that we may not have considered had they not recommended it – we knew it was the right home for us the moment we saw it.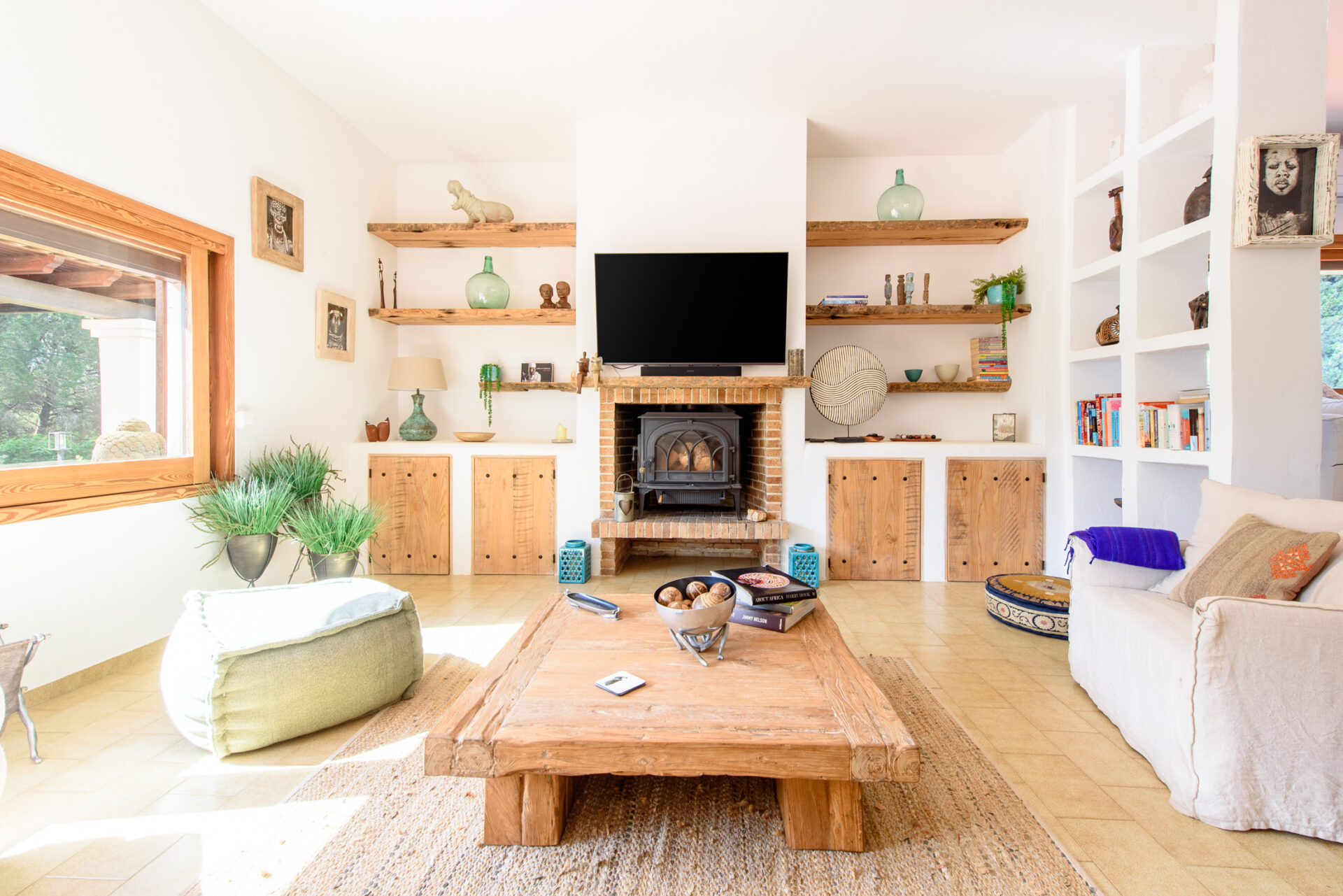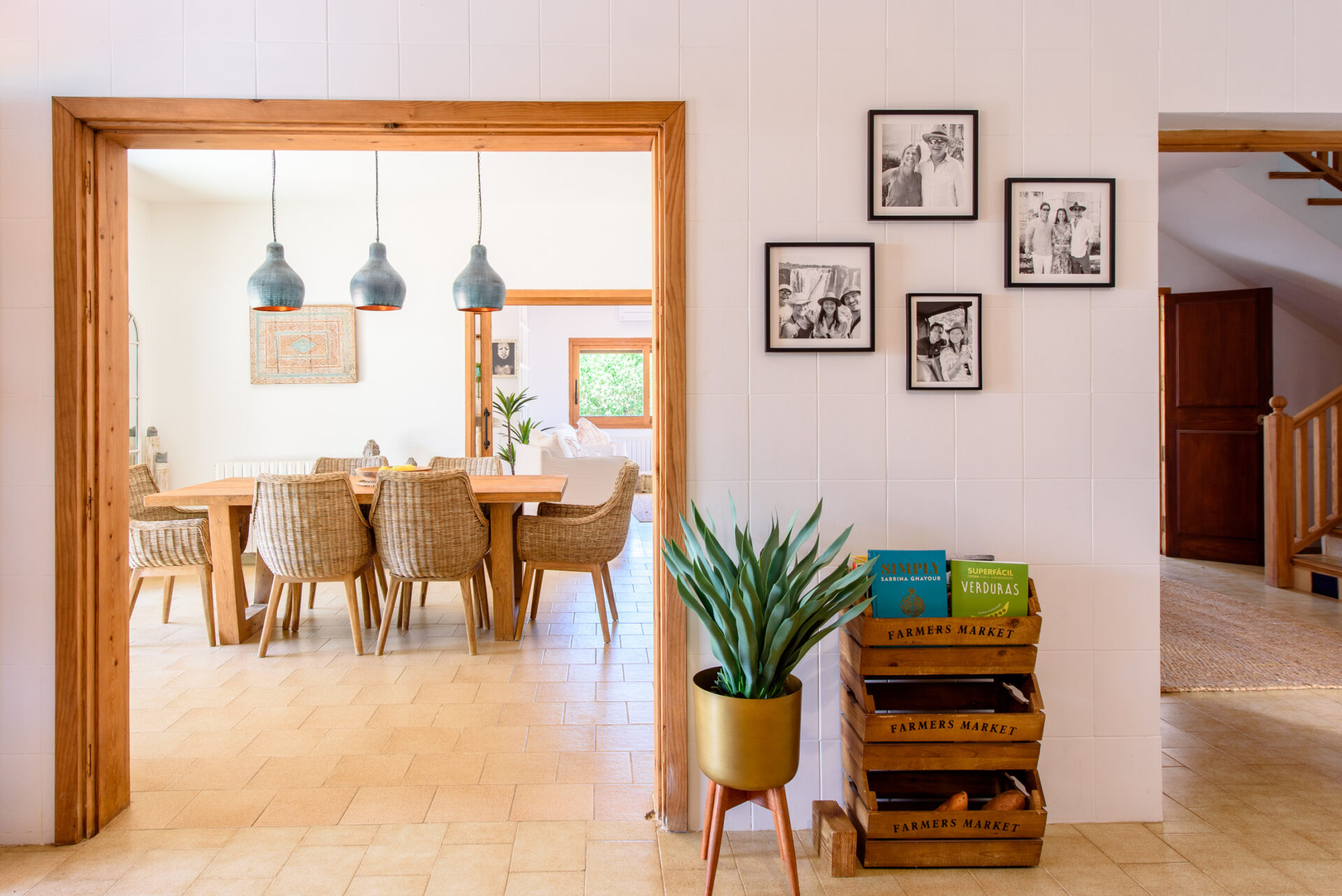 Rarely do you sell and buy/complete on the same day in the Spanish system but due to unforeseen circumstances with our buyers this was the situation we found ourselves in, as well as being at the start of the COVID situation and looming lockdown. Thankfully Clea held our hands once again to ensure everything was pushed through and here we are today in our lovely Villa Valentina albeit sadly (but excitedly) selling to be closer to family in Africa.
What is your favourite thing about Villa Valentina?
It's tough to choose, but I really love the spaciousness and light throughout the house with views of the garden from every window. We have the morning sunrise at the front of the house and then the evening sun setting at the rear of the property with terraces to enjoy for either sun or shade depending on the time of day and time of year. The house sits in the middle of the 3-acre plot and I love how the garden wraps around it.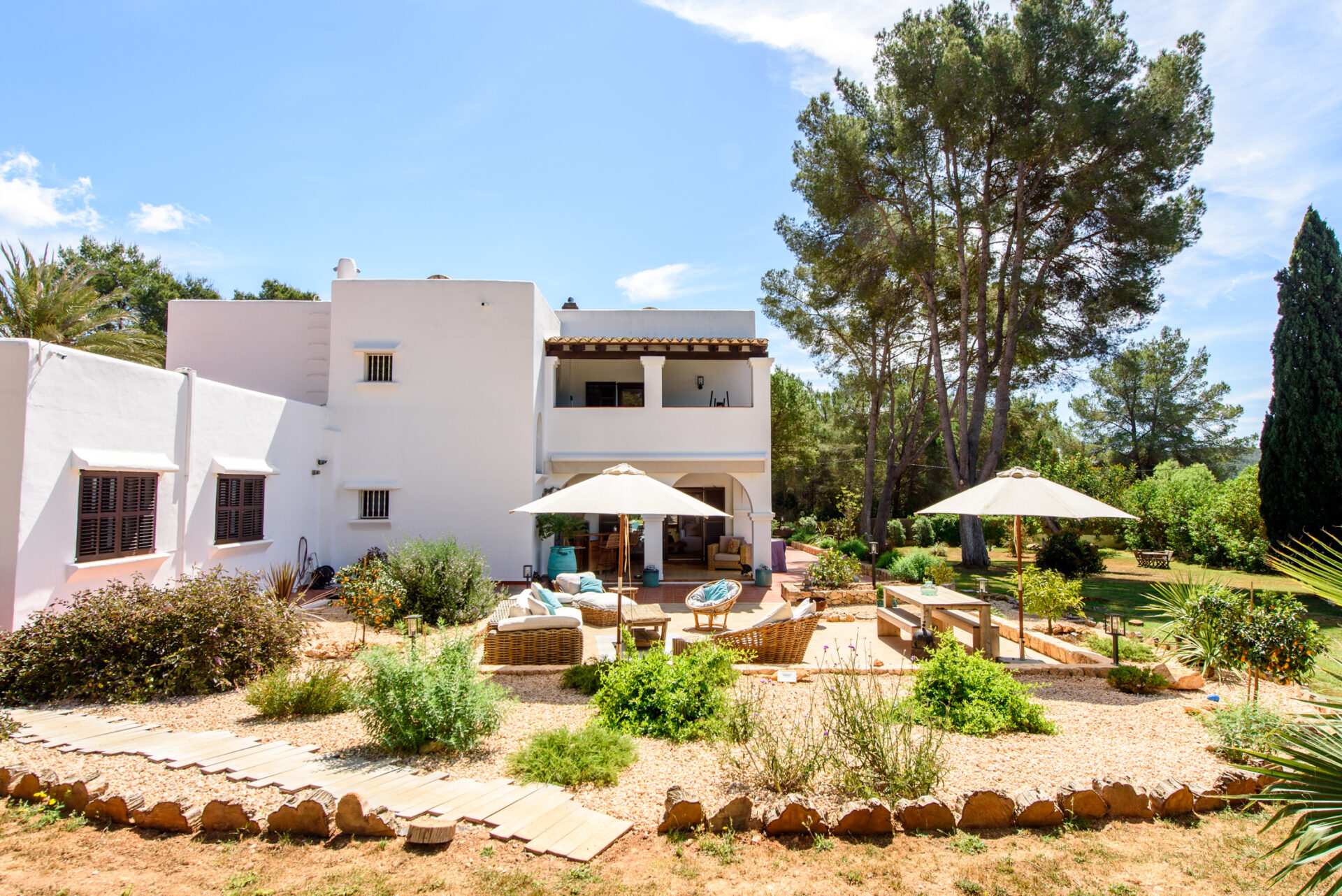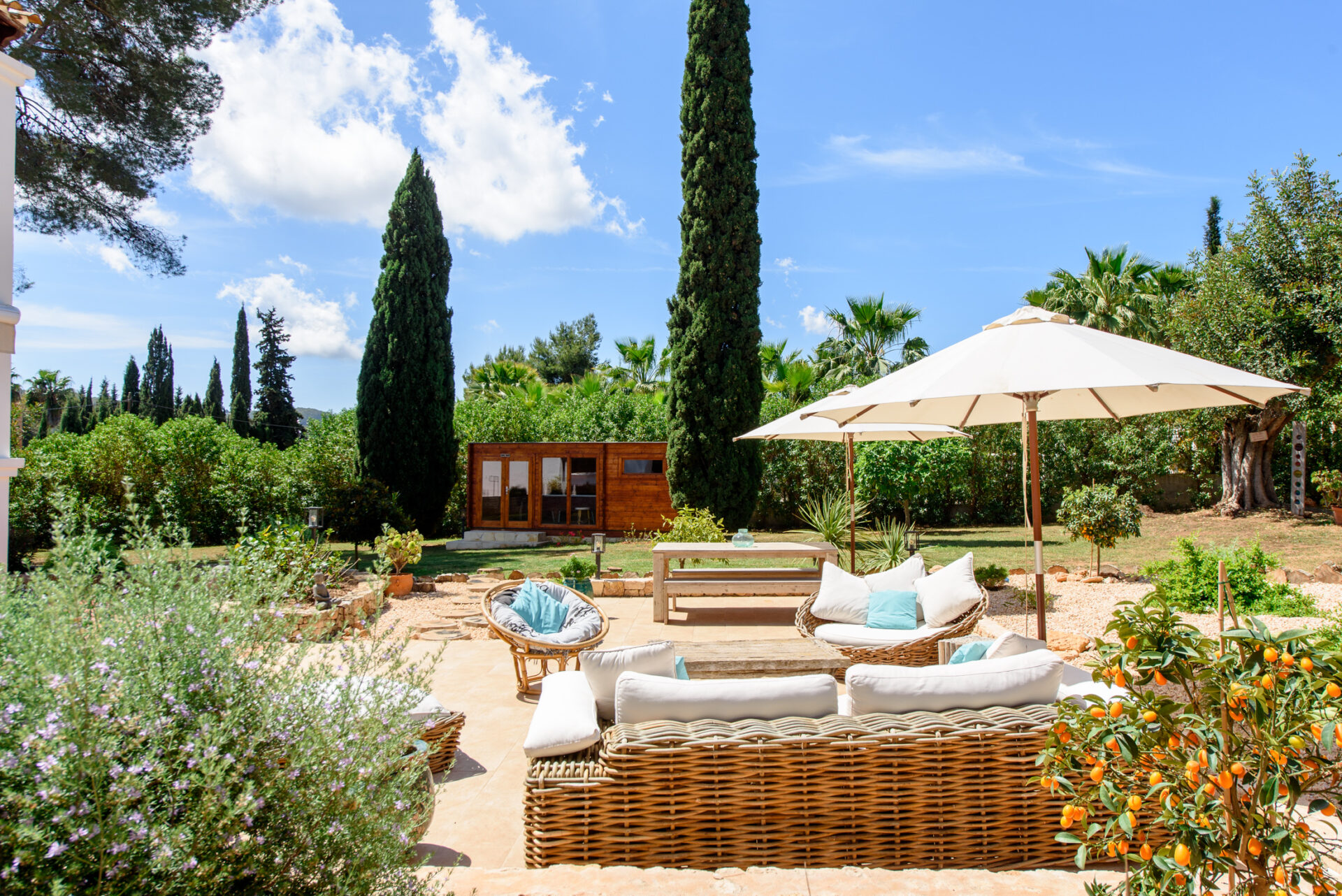 When did you first visit Ibiza?
I was 6 yrs old, so actually 50 yrs ago, when my parents brought us on a family holiday to Ibiza and stayed in Es Cana, a small resort back then with just one hotel. My parents fell in love with Ibiza and 6 years later bought a property in the very undeveloped Es Cana as it was then. So, from the age of 12, my school holidays were spent in Ibiza and many, many happy times were had. Then, as myself, my brother and my sister had our own families, we all enjoyed holidays on the island together.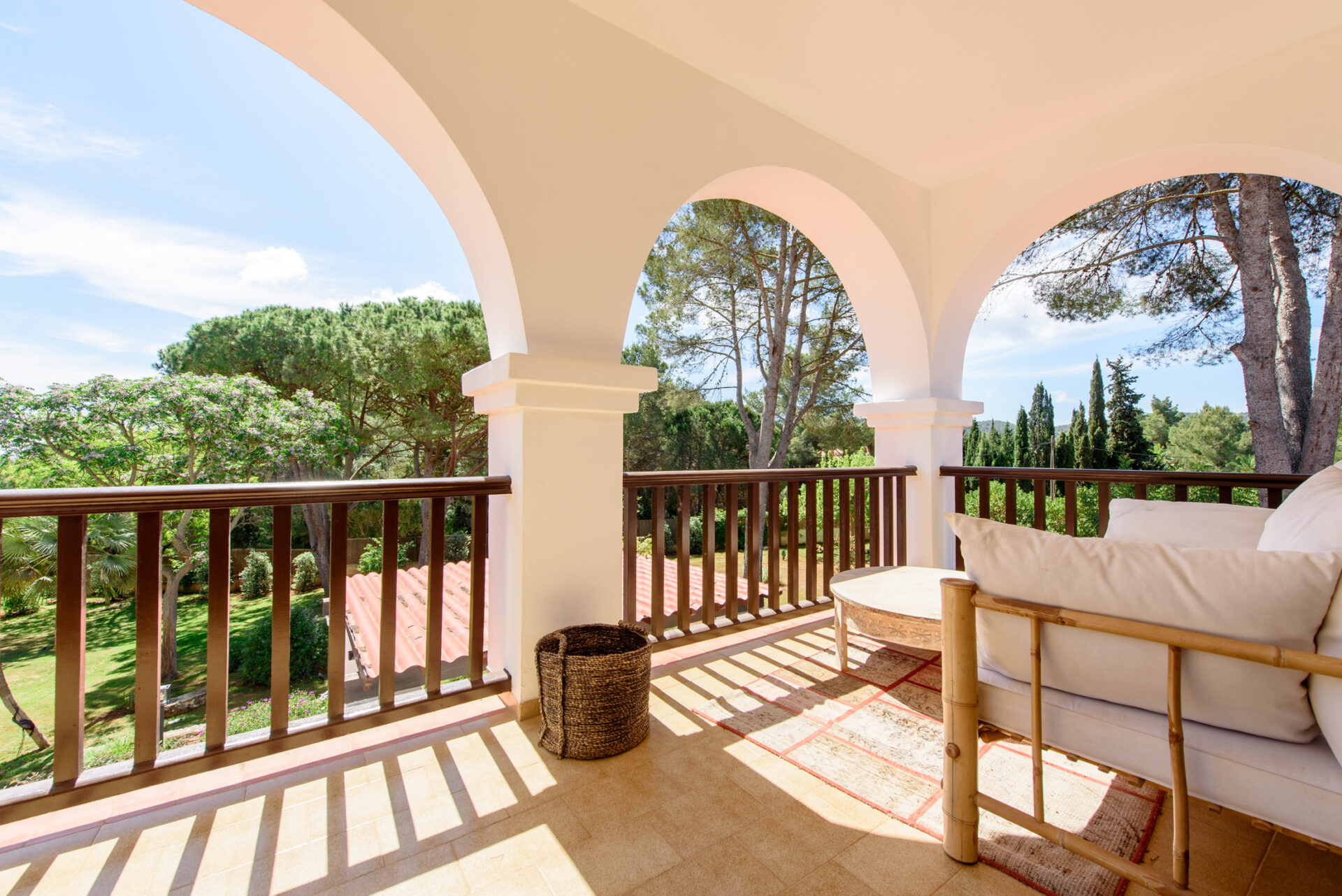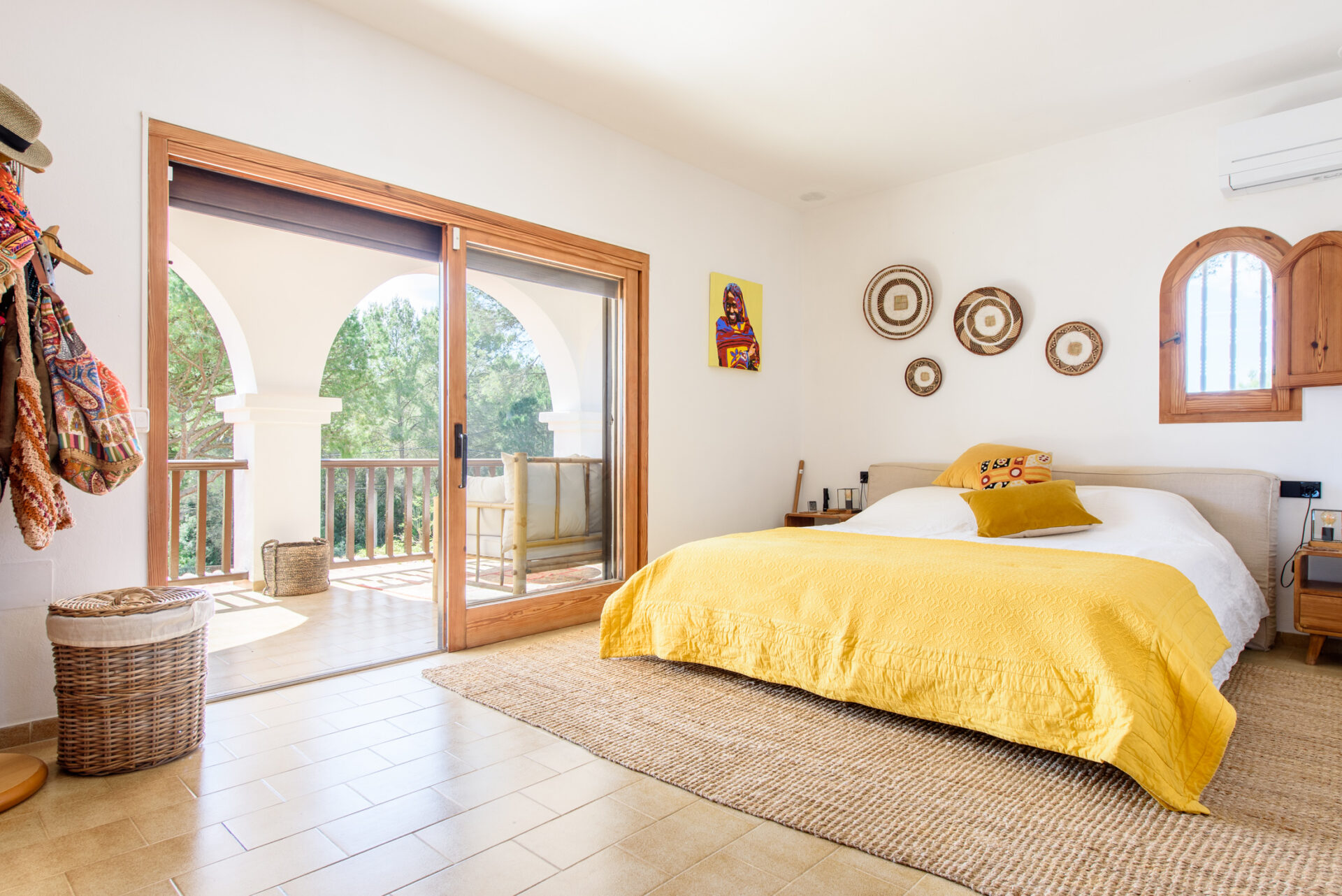 What made you fall in love with the island?
Honestly, I just always knew Ibiza would be in my life forever, definitely from the age of 12 when my parents bought their house.
Back then of course I loved the family holidays, beaches and being so fortunate to holiday here. Only as I grew older, had my own family and then own business did I truly understand and fully appreciate the magnetic hold that Ibiza has, the special light, the smell of the pine trees and herbs in the air, the gorgeous secret coves, the red of the soil, the ruggedness of the rocky coastline. It feeds my soul and the more busy and stressed I became in the corporate world the more I needed Ibiza to balance me and recharge me.
My husband who was born and grew up in Africa until moving to the UK found that Ibiza gave him the space, sunshine and more rural life that he missed from Africa. We love the mix of people we have on the island; the non-judgemental 'anything goes' attitude, the loud sound of the Spanish chatter amongst families on a Sunday at a local chiringuito, the slower pace of life, the farm-to-table restaurants, the understanding of the need to conserve local traditions and the history of the island, all mixed with amazing music and fantastic clubs. I truly just love it.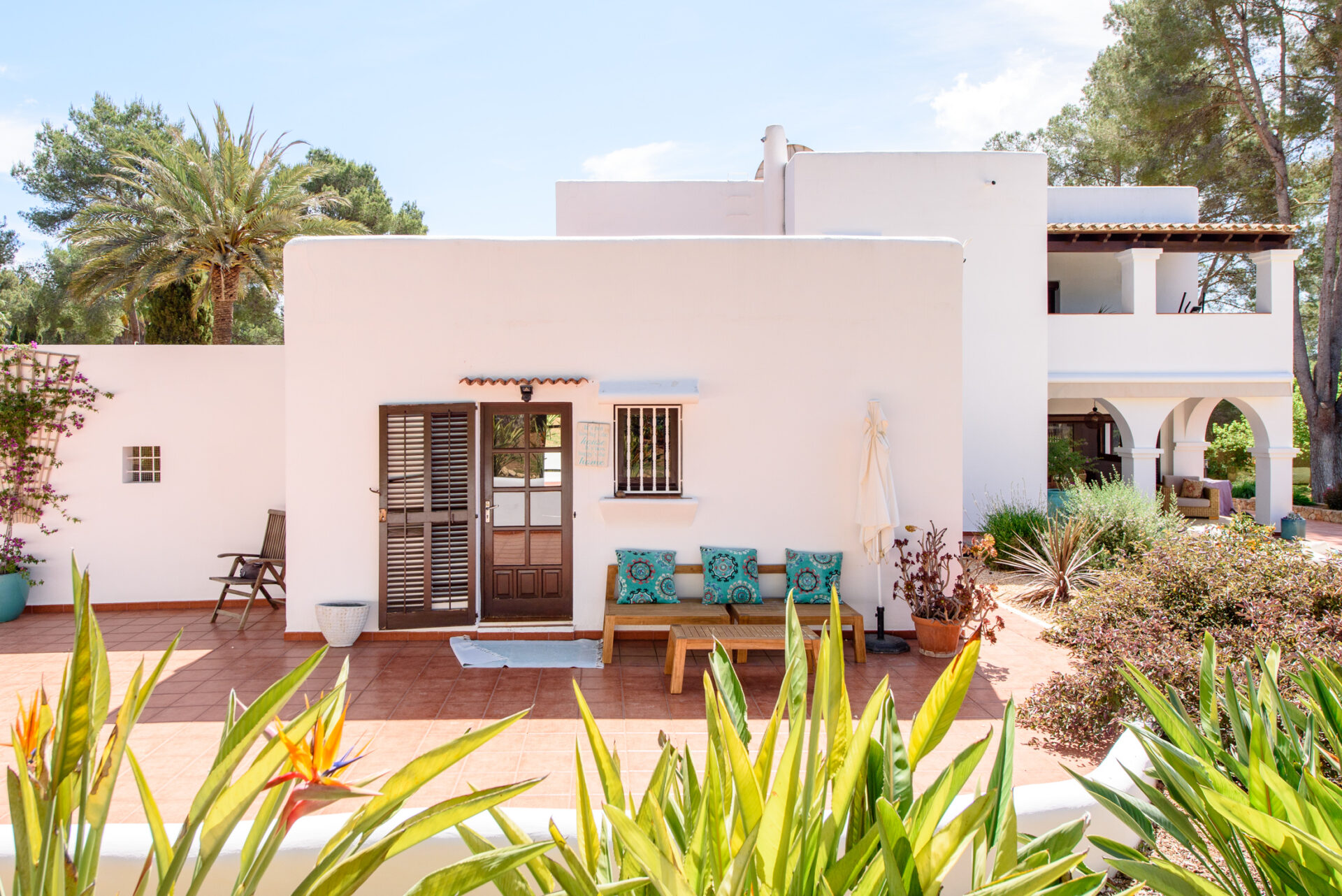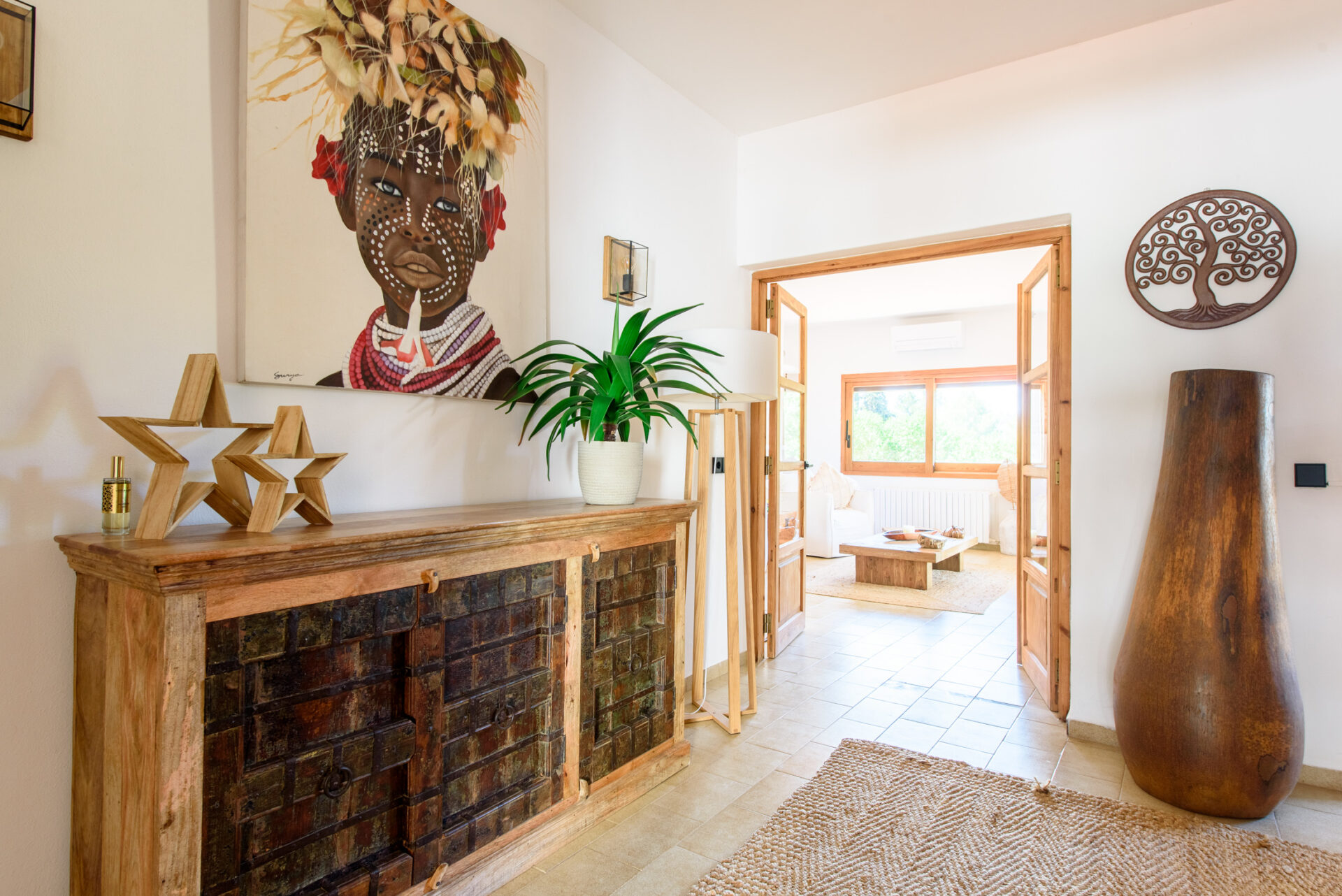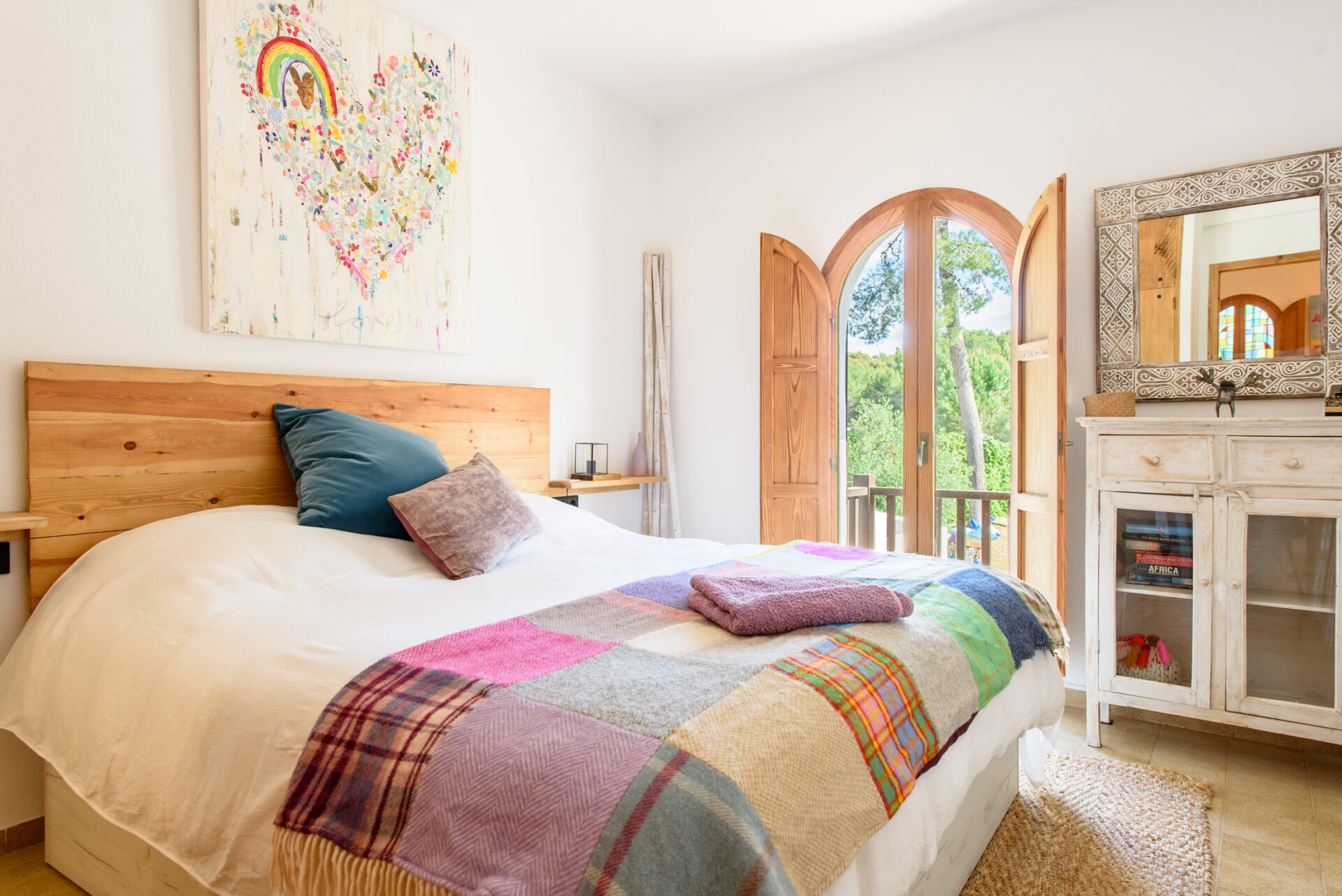 What are your suggestions for the best places to visit around Villa Valentina?
Oh wow – so many to mention as we are so centrally located
Firstly, the restaurants; we are located just off the main San Juan road with so many great places to eat just minutes away when we are not enjoying eating at home in the garden. Literally at the top of the lane and within walking distance is the lovely Es Caliu with summer dining in their gorgeous gardens and great grill menu.
We love Can Muson which is open all year and family run and super cosy in the winter with a roaring fire. Cana Pepeta is lovely and of course, we also have renowned Nagai and Bambuddha 3 mins away.
Just 5 minutes to La Paloma and Casa Lhasa in San Lorenzo and Lydia's North is great fun with live music at the weekends and the best burgers, we also love Can Garage which is a similar vibe but just off the main St Eulalia to Ibiza road.
The gorgeous organic farm Terra Masia is also just a few minutes drive away and well worth a visit to collect your veggie boxes or have brunch.
Villa Valentina is just 10 mins from Santa Gertrudis with its super shops, restaurants and bars; 15 mins from Benirras, 10 mins from San Juan itself and of course 10 mins from St Eulalia and 12 mins from Ibiza Town. We love the location as it enables us to get anywhere super easily whilst still feeling we are a little in the campo. There's so much close by to enjoy.
Do you think that Ibiza is a good place to start or raise a family? Why?
That's a tough question for me as one of my regrets is that we didn't make the permanent move to Ibiza when our children were young – but the answer is a resounding YES.
I believe there is so much less pressure put on children here in schools and they grow up surrounded by nature and the simple things in life; playing in the sea, long days in the sunshine, greenery and forests etc. They are surrounded by children with like-minded parents; less judgemental and those that want something different for their children who have chosen to move to Ibiza as well as the local Ibizan and Spanish families.
I love seeing all the Spanish families out together dining late in the evening and the Spanish culture that so loves children. Our son, now 28, has chosen to make his home here on the island and has truly found his "tribe". It's a very special place in my opinion – a softer, more nurturing and calmer environment.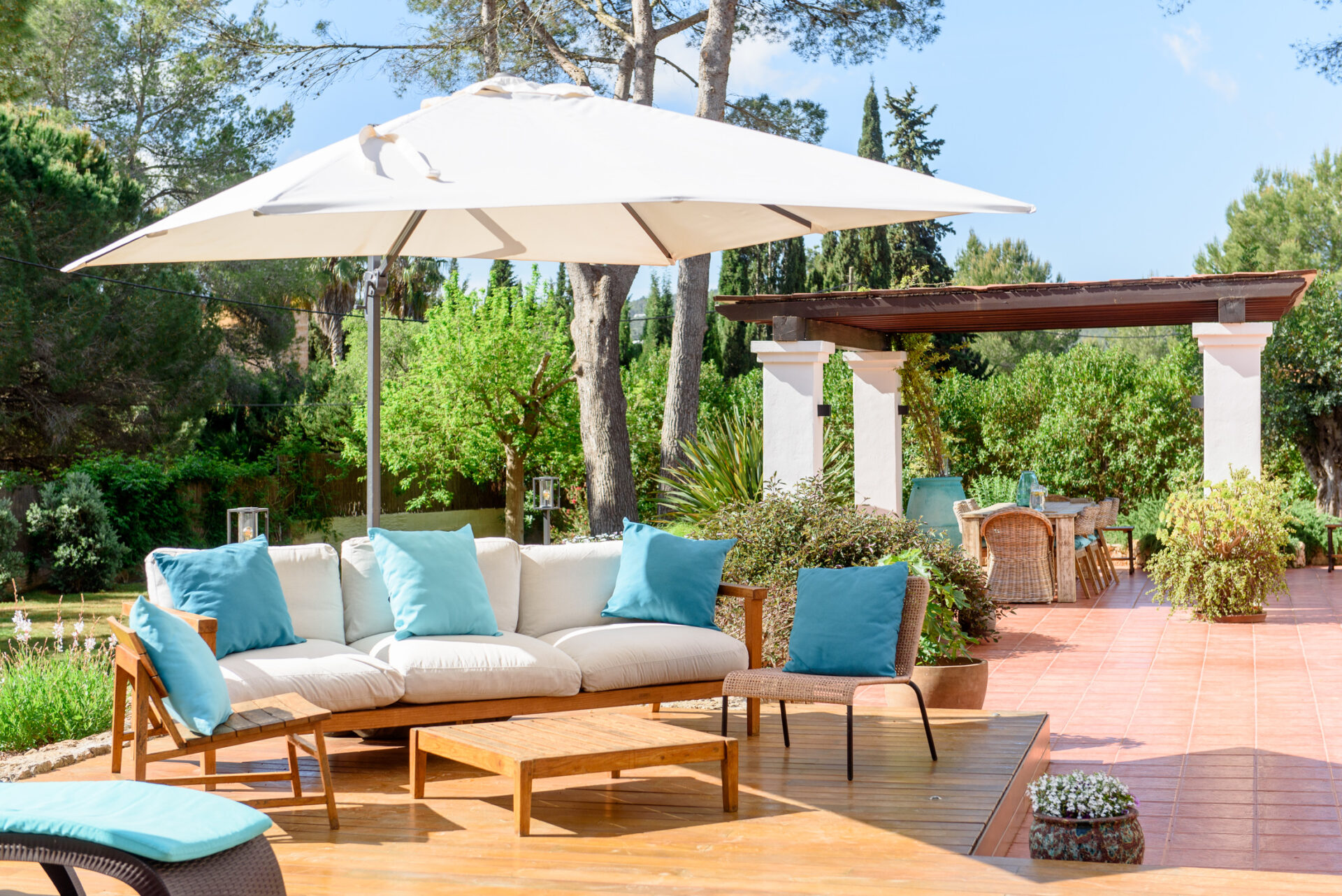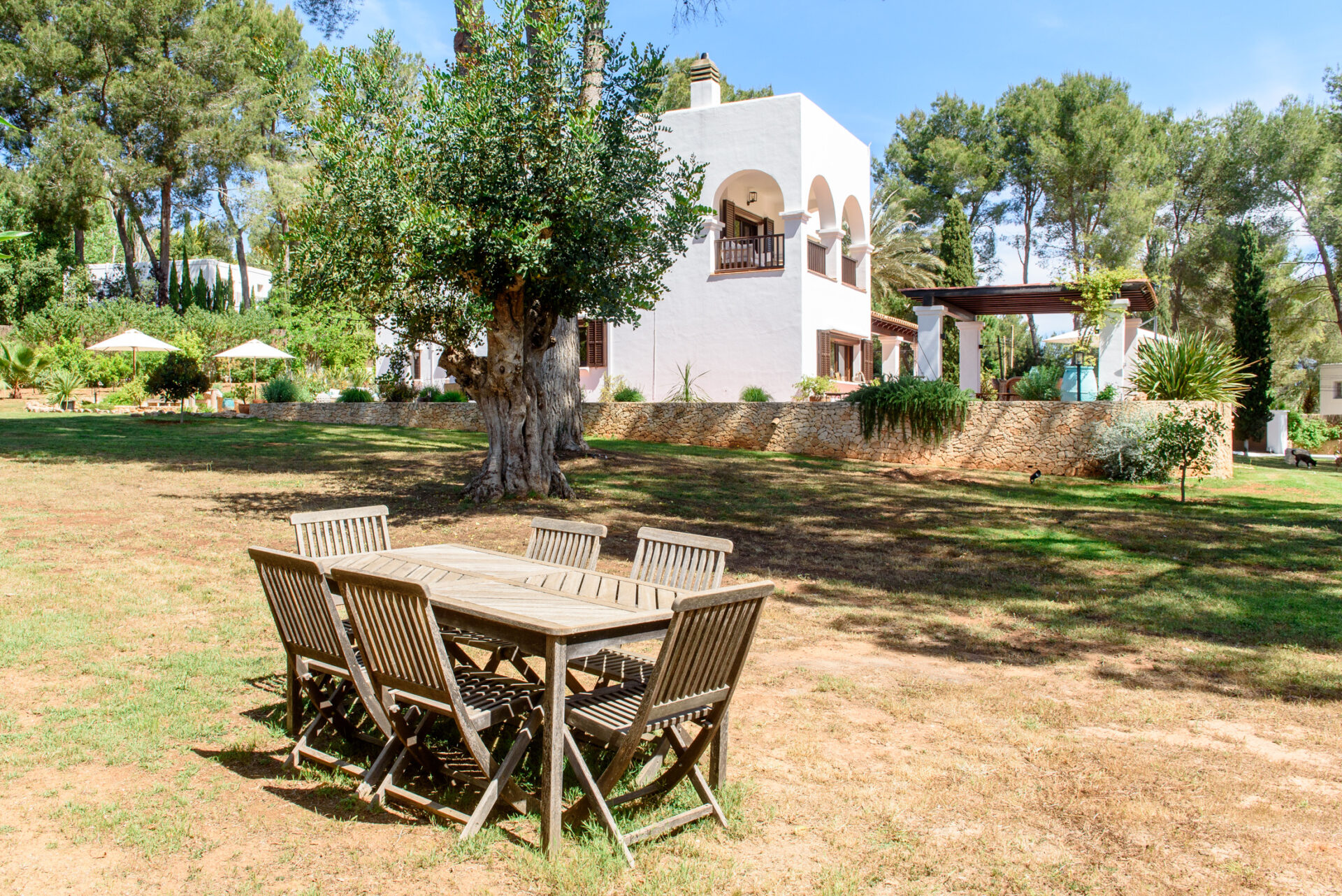 If you'd like to learn more about Villa Valentina or arrange a viewing, feel free to contact us.
---