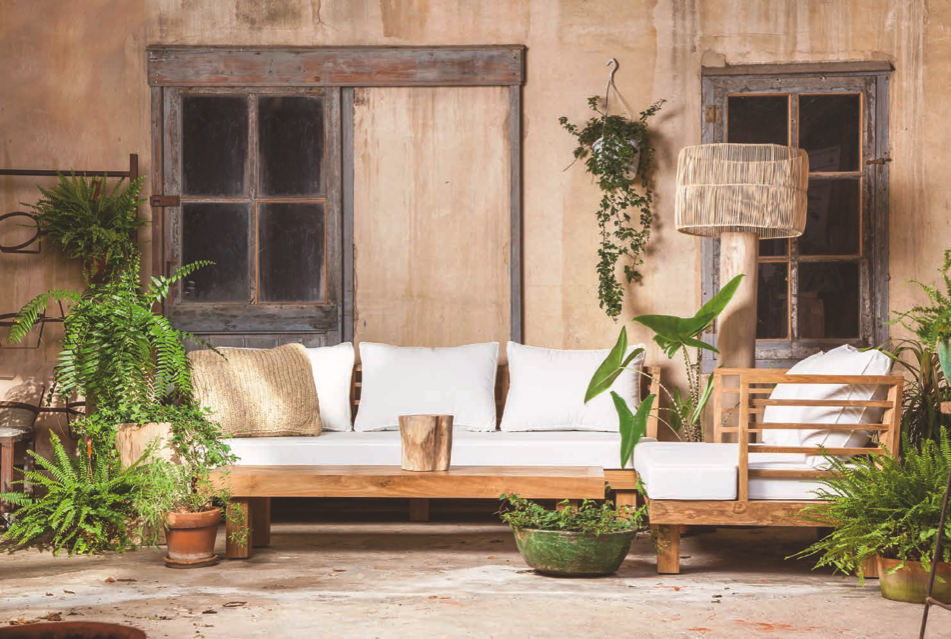 If you're anything like us, you might be tired of staring at the same four walls of your Ibiza home right now. No matter how much we may have loved our own bedrooms, living spaces, kitchens and bathrooms up until now, a full 12 months spent predominantly at home is certainly enough to inspire an interiors makeover for the new season ahead. When it comes to redecorating, there's no one size fits all formula for style – just as Ibiza is known for its melting pot of people, homes on the island fall into all different types of categories and need to be carefully fused with the personalities of their owners in order to look effortlessly styled.
In need of interiors inspo? Pinterest and Instagram are a wealth of ideas of course, although sometimes it's tricky to know where to start. Here, we've identified five significant design trends for 20201 that can be customised to suit your home and character – not to mention provide the level of comfort we've become accustomed to in recent months!
Rustic coastal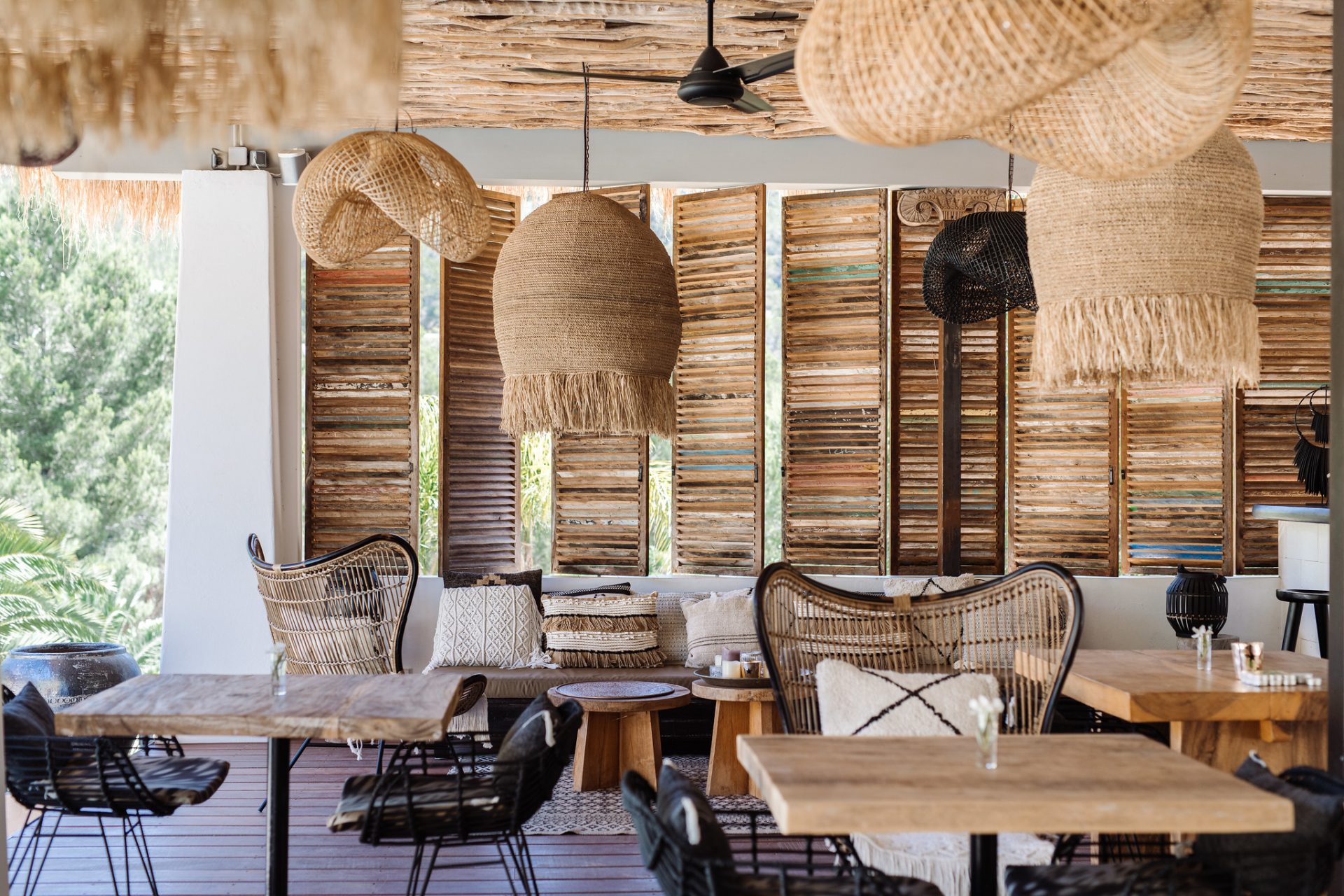 Photo credit: Pure House Ibiza
We do like to be beside the seaside – this is Ibiza after all. Whether your home is quite literally on the coast or further inland isn't relevant to the look, however. Forgot old school beachy styles like traditional boho (colourful throws, tasselled cushions and plush furnishings) or tired old shabby chic – this light and natural style works well in fincas and villas alike. It's a contemporary, chic twist on the classic surf house look. These days, it's all about using natural textures and neutral or earthy tones – rattan furniture, hanging wicker pendant lamps, light woods, soft furnishings made of organic linen in caramels, beige and dusky pinks and flowing sheer curtains that filter the golden Ibiza sunlight beautifully. Vintage inspired cult pieces and sustainable designs work perfectly within this aesthetic.
Liveable luxury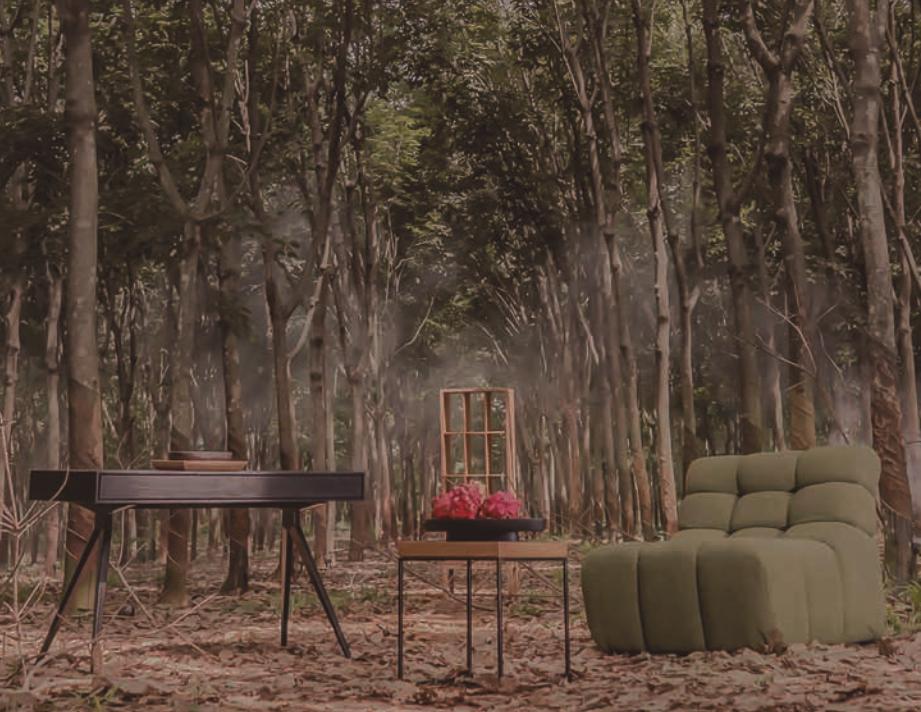 Photo credit: The Ibiza Furniture Shop
Gone are the sleek, minimal, white-on-white luxury homes of Ibiza's past. Lockdowns, quarantines and restrictions have proven that the minimalist look is no longer relevant to real life living – however that doesn't mean you can't have a pared-back, sophisticated home. Less is still more, and in modern homes mid-century modular sofas, low slung coffee tables and ergonomically designed dining settings all have their place, along with simple statement lighting, monochrome bed linens and soft furnishings. You don't need to have a lot of accessories to make a style statement; rather, elegant-coloured marble kitchen islands – think rose quartz pink or emerald green – and pastel-tiled bathrooms take centre stage and bring warmth into spaces that were once intentionally clinical, elevating the minimalist luxe look for the new decade.
Urban jungle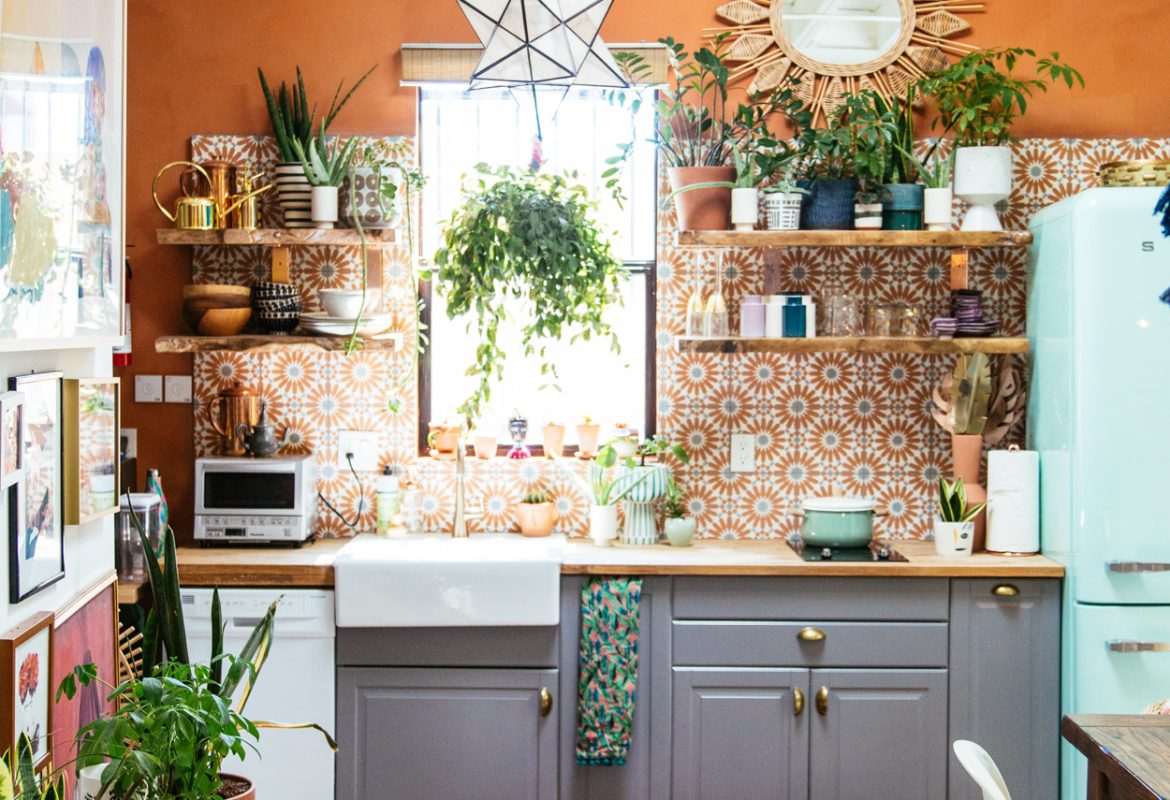 Photo credit: Jungalow
The desire to connect with nature is strong at this point in human history and if your home doesn't have a garden space, farmland or forest in the near vicinity, you'll just have to bring nature to you. Creating an interior jungle is a relatively easy interior design hack, although you do need to be committed to plant care to ensure your new green friends are thriving and happy in their interior setting. Macrame plant hangers are no longer a 1970s throwback, and it's really a case of the more the merrier. Down on ground level, terracotta and Scandi-inspired planters can house succulents, banana palms, mother-in-law's tongue and more – the trick here is to ensure your plants are situated at different heights and levels to make it look as if nature has organically taken over the space. Team it with quirky patterned tiles or wallpaper if you really want to go all out.
Elegant rock and roll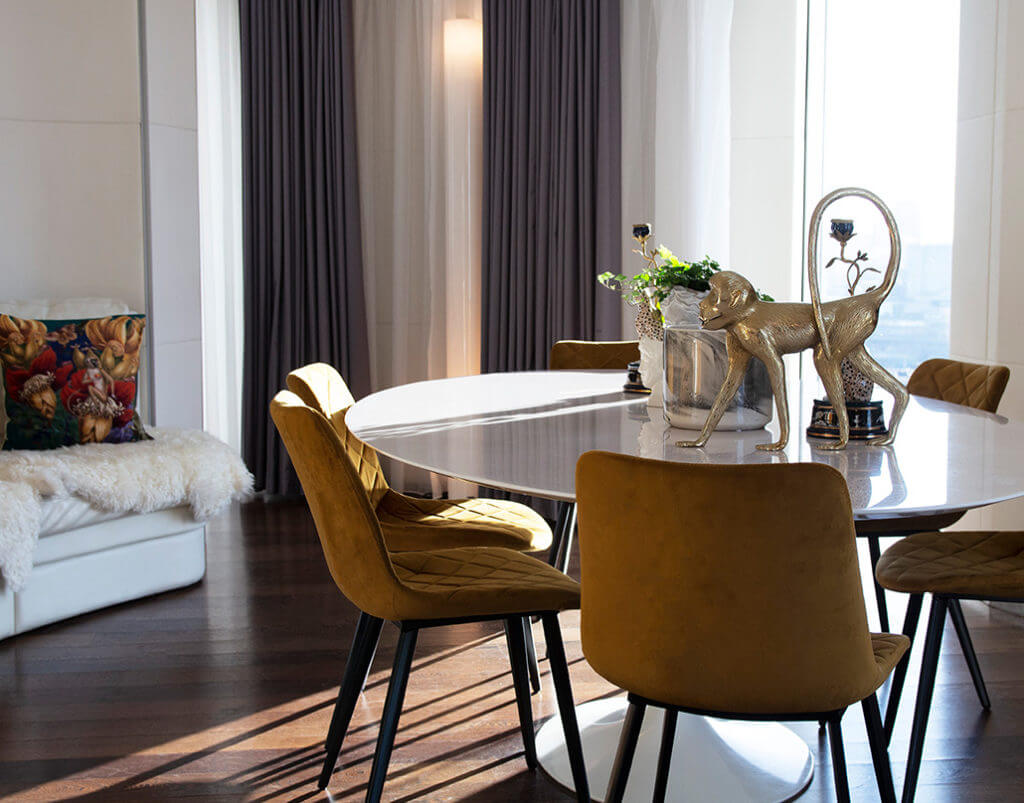 Photo credit: Rockett St George
Elevate your teenage penchant for grunge or goth with elegant matte-paint dark feature walls – think British racing green, a grey so deep it's almost black, luxe navy, warm maroon and if you really want to go all in, black, black and blacker (we're looking at you Farrow & Ball paint!). This rock and roll inspired style is ideal for giving a modern villa or sleek contemporary apartment a sense of comfort with a modern style twist. Add oversized framed rock prints on the wall (Bowie, Pink Floyd and Led Zeppelin album covers all fit the aesthetic perfectly), cool bronze or gold mountable sculptures in interesting shapes like pineapples, flamingos or palm trees to add texture to a picture wall. Furniture wise, you can't go wrong with long secular sofas, tall bookshelves (lined with objets d'art and trinkets as well as cult classic books), wrought iron bedheads, statement chairs and chic cadenzas. It's retro without feeling outdated or losing a sense of luxury – just be sure you don't feel too inspired by the rock and roll greats that you trash that oversized plasma!
Nostalgic maximalism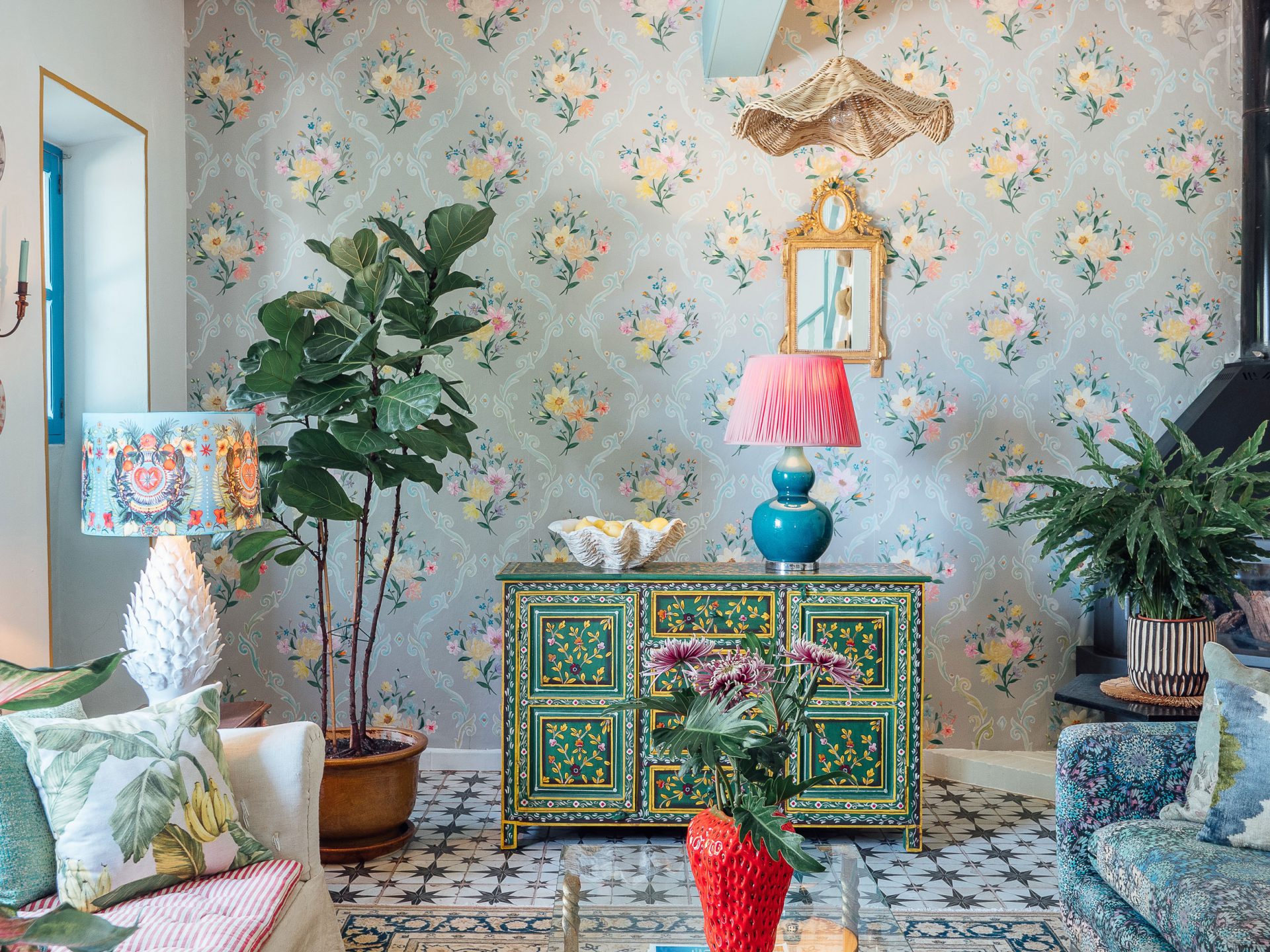 Photo credit: Matthew Williamson Interior Design
Old school bed ruffles, heavy velvet drapes, bronzed antique lamp bases with floral shades, nanna-style crockery sets, chintzy porcelain parrots, vibrant silk cushions, animal print rugs and patterned wallpaper… oh my! Maximalism fused with a touch of nostalgia and eclecticism takes #wfh and rainy day comfort to the next level. Layers of throw blankets draped over chairs, gallery walls that incorporate clocks, paintings and neons alike – the quirkier the better – and statement chairs like the iconic Emmanuelle peacock or brown leather chesterfields set the scene. Add cool amplifier-inspired speakers, lean a guitar up against the wall and be sure to light the room with candles at every chance you get. Ancient fincas and retro holiday-style apartments from the 60s, 70s and 80s are perfectly suited to this OTT style – remember, more is more.
---