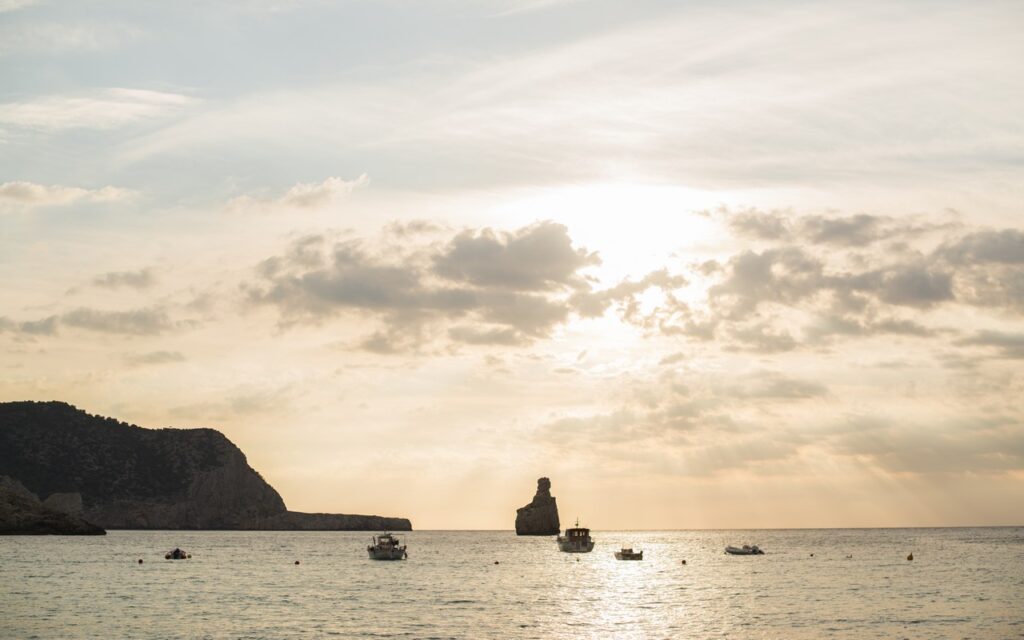 It's the most spectacular show on earth and it's on every single day of the year. Sunset in Ibiza is famous for its colours and soundtracks. Here's a run down of some of our favourite spots to witness nature's daily gift – known and unknown.
1. Cafe Mambo
Some of the world's most famous DJs have put music to the sunset from this iconic Ibiza institution. Grab a cocktail and a snack, sit back and enjoy the view and the tunes.
2. Sunset Ashram
Perched on the gorgeous beach of Cala Conta, Sunset Ashram is another iconic island venue. With its fantastic location and bohemian vibe it's sure to make a few of your chakras pulsate with joy.
3. Hostal La Torre
There is something so elegant and old-school about this traditional Spanish style hostel, bar and restaurant. The crowd here is low-key but sophisticated and the view is uninterrupted and flawless.
4. Punta Galera
The waters around this natural rock formation is crystal clear and the sunset is divine at this out crop of smooth flat rocks between San Antonio and Santa Agnes. Wonderful for sunset meditation, yoga or swimming.
5. Benirras
Benirras is the sunset jewel of the island's north west. Once boasting a strong hippy enclave, there are still remnants of the summer of love, particularly on Sundays when a group of hippy drummers descend to the sand to salute the setting sun.
6. Hotel Hacienda Na Xamena
It would be hard to decide on the best vantage point for sunset at this glorious hotel. The poolside bar? Eden Restaurant? The famous Cascadas in the spa? Or the hot tub on your private terrace? Oh, decisions, decisions!
7. Sa Punta
It's not on the west coast but the colours of the sky at sunset are still splendid, and the venue now offers three different vantage points (and styles of cuisine) to enjoy sunset. Sa Punta is classic Mediterranean fine dining, the roof terrace called Patchwork serving Lebanese light bites and the Cliffside Ginger offering Asian sharing plates. All the more reasons to watch three sunsets here.
8. Cala D'Hort
Witnessing sunset at the small cove of Cala D'Hort is akin to a spiritual experience. Es Vedra, the magnetic and mysterious rocky outcrop rising from the sea makes a dramatic backdrop to the last rays of the sun.
9. Cap Des Falco
Sitting on the rocky beach of Es Colodar is roughing it, or indulging in a daybed or dinner at stylish restaurant Experimental Beach Ibiza is the ultimate in luxury. Watch the rays dip over the tip of Es Vedra in the distance – divine.
10. Las Puertas Del Cielo
This humble bar and restaurant is a short pilgrimage from the quaint village of Santa Agnes. The name translates as The Gates To Heaven and once you've seen the sunset from here you'll understand why.
---