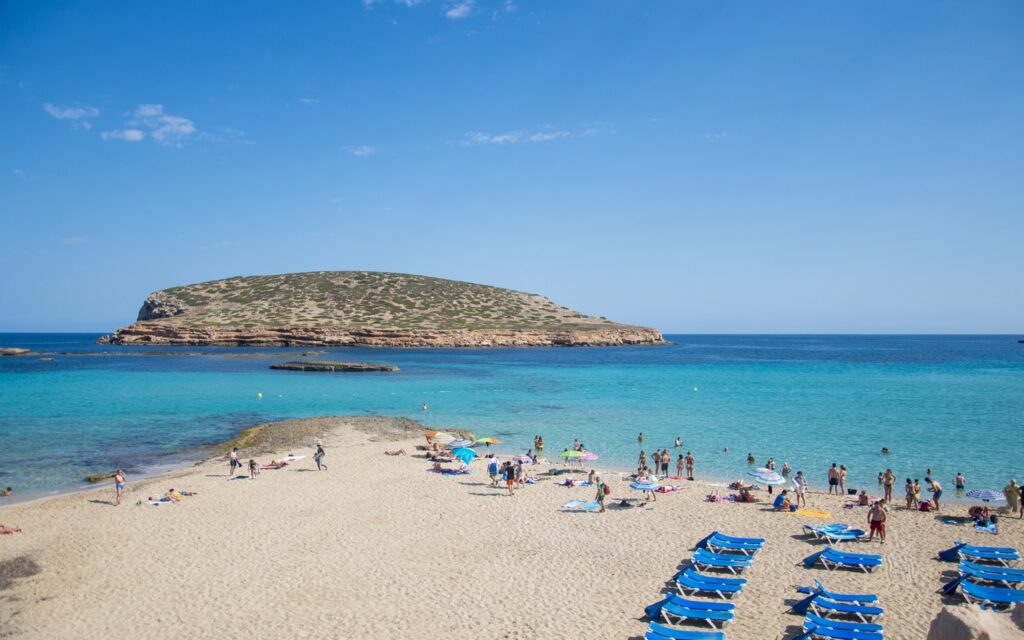 With around 90 beaches in Ibiza – some only accessible on foot or by boat -it's pretty hard to choose just ten, but we gave it our best shot!
1. Cala d'en Serra This diminutive slice of sand in the north is just so… cute. It can be tricky to find, navigating derelict hotel ruins but that's all part of the charm. Once you do it's simply perfect.
2. Aguas Blancas The water here is so blue and pure you can see right through to the sand below. The sand stretches out white and soft and as the sun sinks in the afternoon the overhanging cliff provides some much-needed shade. And the tiny chiringuito makes the island's tastiest bocadillos.
3. Las Salinas Possibly the best people watching in the world. Lined with funky beach bars each pumping out their own soundtrack to summer, parades of skimpily clad young things stomping up and down the white sand advertising various club nights and many more beautiful, suntanned (and occasionally naked) bodies frolic in the sea.
4. Sa Caleta Tucked around a dramatic bend is this little beauty of a beach. Towering red cliffs give it a dramatic backdrop and the famous restaurant serves some excellent seafood. It's also home to Cafe Caleta – a heady brew of coffee, citrus, spice and brandy.
5. Cala Conta This gorgeous cove actually contains three beaches. Sunset Ashram sits in the middle of two of them and across a rocky outcrop lays a smaller beach used by naturists. Clear waters, beautiful sunset and views of the twin islands of S'Espartar Illa des Bosc and Sa Conillera make the experience nothing short of breathtaking.
6. Benirras This really is a must do beach on the Ibiza map. The view out to sea is just divine, from dawn until sunset and the numerous eating spots are all excellent, particularly juice bar Sejuiced for a quick hit of fresh and healthy. On Sundays a group of hippy drummers descend from the hills to drum in the sunset – an amazing experience.
7. Punta Galera Not exactly a beach but this spot just has to go on the list. This natural rock formation of smooth, flat rocks reach out over the clearest waters in Ibiza. There are some excellent jumping spots and some terrific snorkelling opportunities. And the sunset is perfect. translate There is no restaurant so bring your own drinks and snacks unless you're happy to buy warm drinks from the naked German guy who sits day in day out under a sun umbrella, with a strategically placed cool box.
8. Cala de Boix This is an amazing black sand beach, the only one on the island. Make sure you wear flip flops, as the dark sand absorbs the heat and can get hot but the lovely, clear water is very soothing. A tranquil escape from the summer hustle and bustle.
9. Cala Jondal White sands, blue water and some of the coolest beachside bars and restaurants on the island. It's no wonder the who's who of the jet set crew make this beach their summer hangout.
10. Moon Beach Secret, mystical, magical and hard to find. Only the intrepid will make it to Moon Beach but those who do will be rewarded with a secluded paradise in the island's north… but we can't give away the directions! Seek, and ye shall find… hopefully!
---