Views, music and cocktails. What more could you ask for?
Are you looking for the perfect place to celebrate or simply enjoy a drink with a dazzling view? Look no further! Ibiza is known for its rich culture and stunning scenery, and what better way to take it all in than from a rooftop bar whilst sipping on cocktails?
Sky bars are perfect for escaping the hustle and bustle of the streets below and for enjoying food and drinks in a more relaxing atmosphere. Not only do they offer panoramic views of the city and the natural beauty of the island, but they are also an ideal spot for people watching and sunset gazing as the day turns to night on another incredible day on the White Isle.
From chic and sophisticated to laid-back and casual, there's a rooftop bar to suit everyone's taste in Ibiza. Let's explore some of our favourites together:
Santa Eulalia
Discover the hidden gem atop the luxurious Aguas de Ibiza Grand Luxe Hotel. Enjoy a gastronomic journey through Peru's unusual routes at Maymata restaurant or indulge in alchemist pisco cocktails at Maymanta Pisco Bar, perfect for anyone looking to elevate their Ibiza experience (literally!).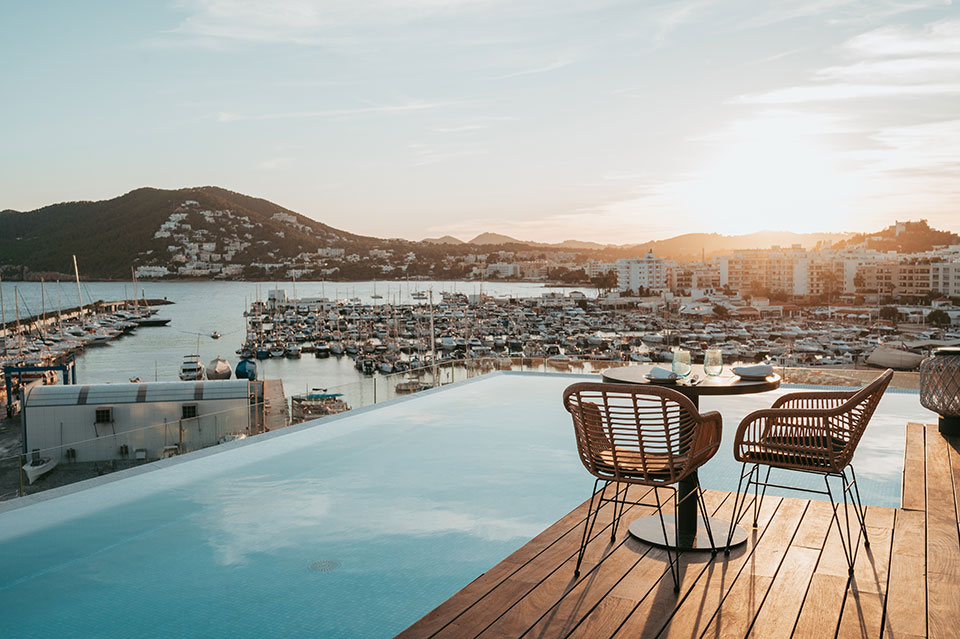 Located in the ME Ibiza Hotel in Santa Eulalia is Radio ME – a beautiful 5th-floor rooftop bar with sensational views of the Mediterranean Sea. It's the perfect place to spend a lazy afternoon into the evening soaking up the sun and sipping on delicious cocktails.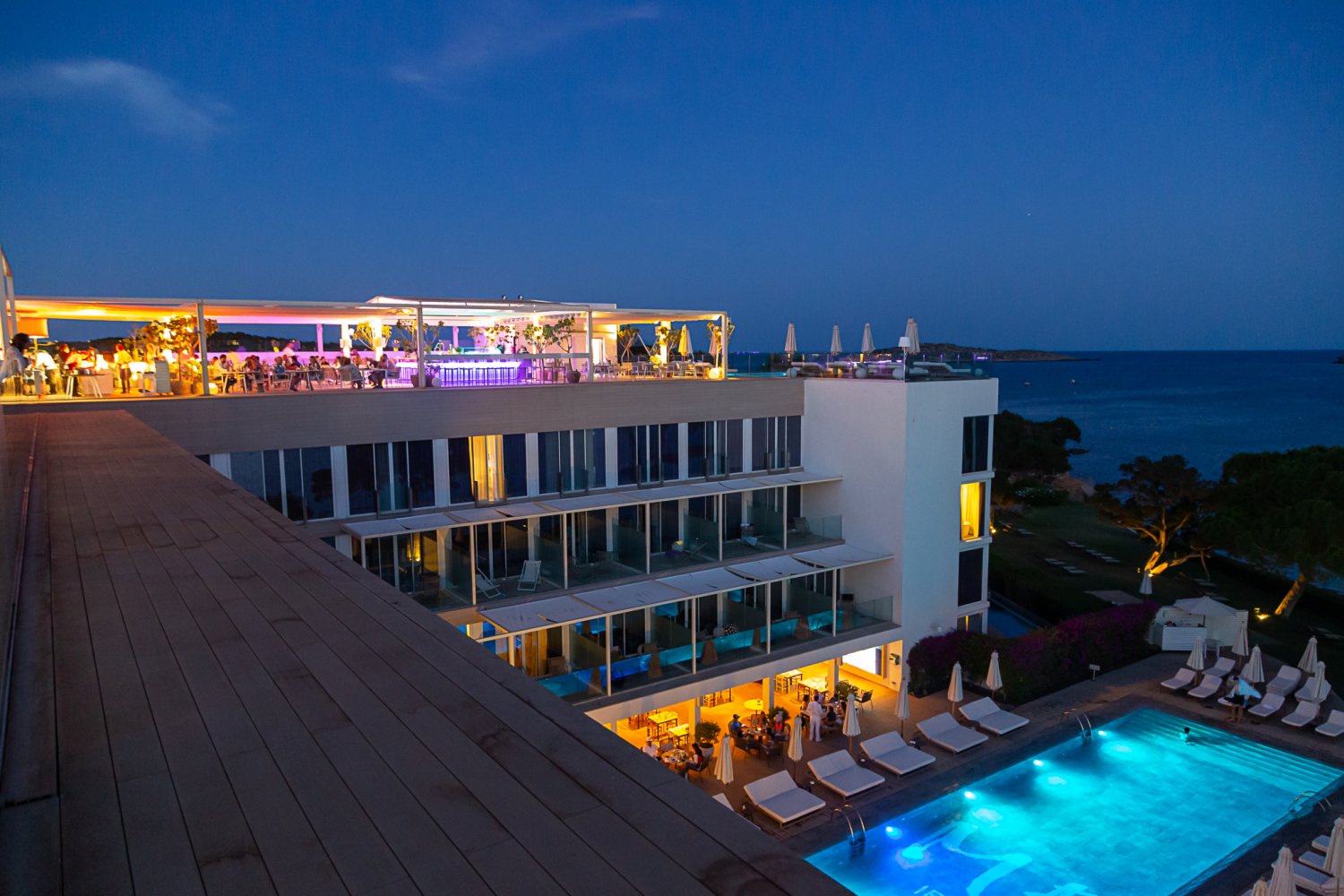 Ibiza
Nestled in the old town of Ibiza is Tira Palla – a well-known meeting spot for not only Ibiza locals but island visitors who stumble across it after wandering the winding streets of Dalt Vila. It has a history of over 2 decades, and the cosy terrace is an idyllic drinking spot with unbelievable views.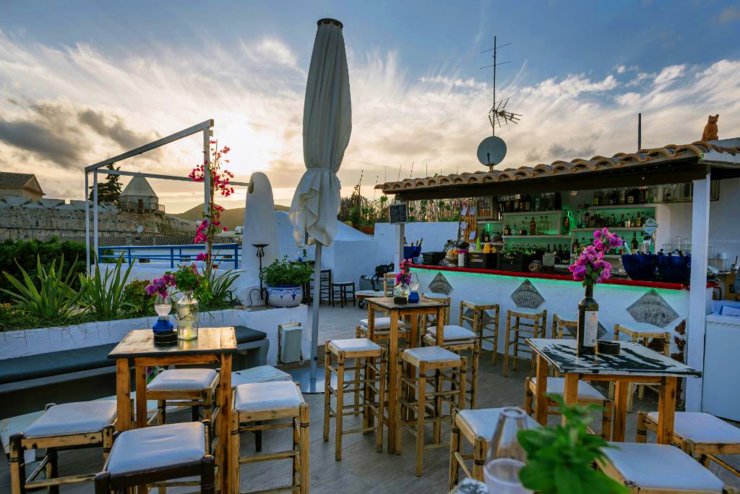 A rooftop bar with a view! Montesol Experimental has a simply stunning sky bar with unmatched views of Ibiza's old town and Dalt Vila on one side, and the harbour packed with beautiful boats on the other. Escape the crowds of Vara de Rey and enjoy an elegant space, gorgeous cocktails and live music events throughout the summer.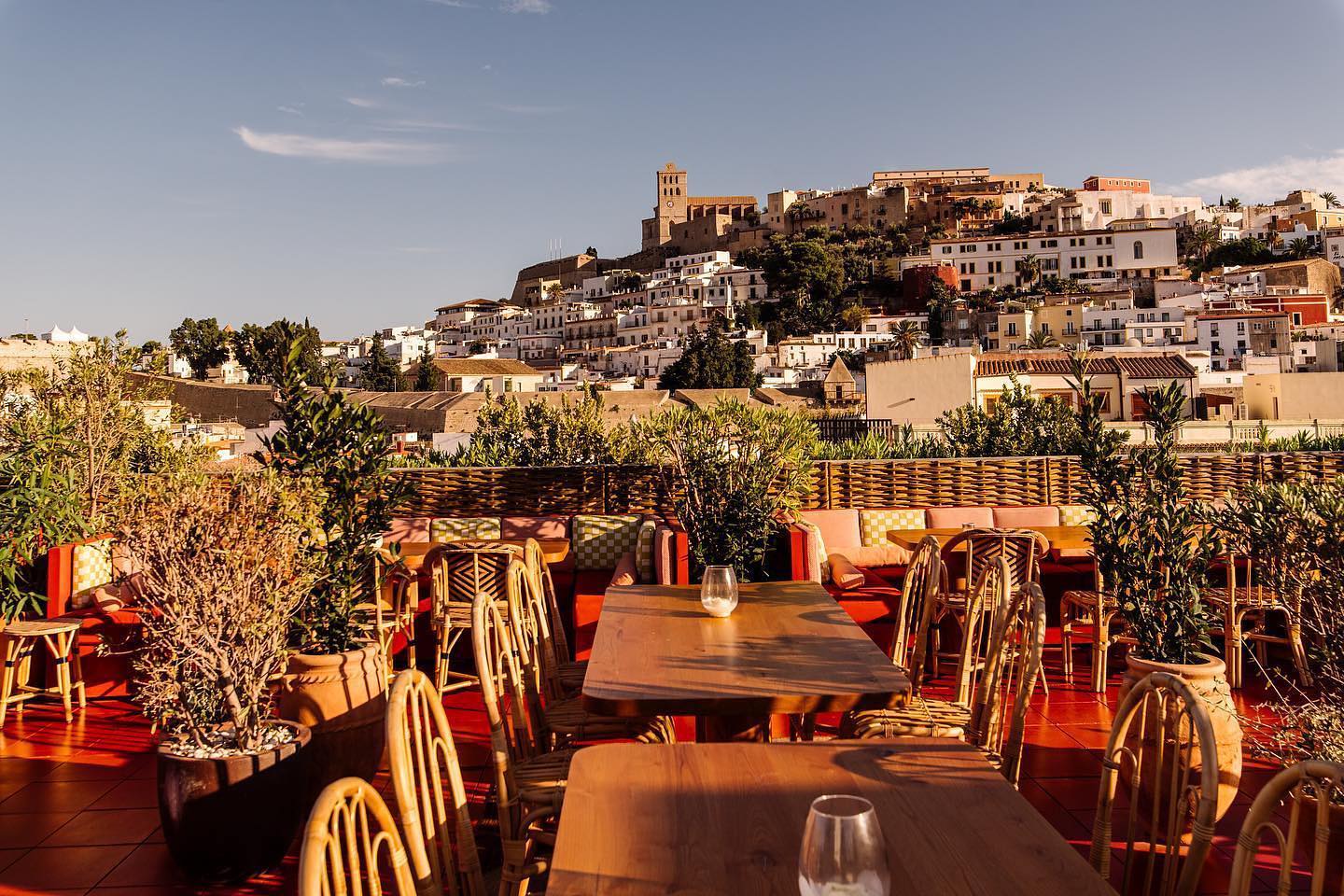 San Antonio
Experience the lively spirit of Havana in Ibiza at Cubanito hotel's rooftop bar, Malecón. With colourful decor, spectacular views of the bay and ocean, and live music nights, this rooftop oasis is the perfect spot for salsa dancing, Latin-inspired cocktails, and unforgettable sunsets.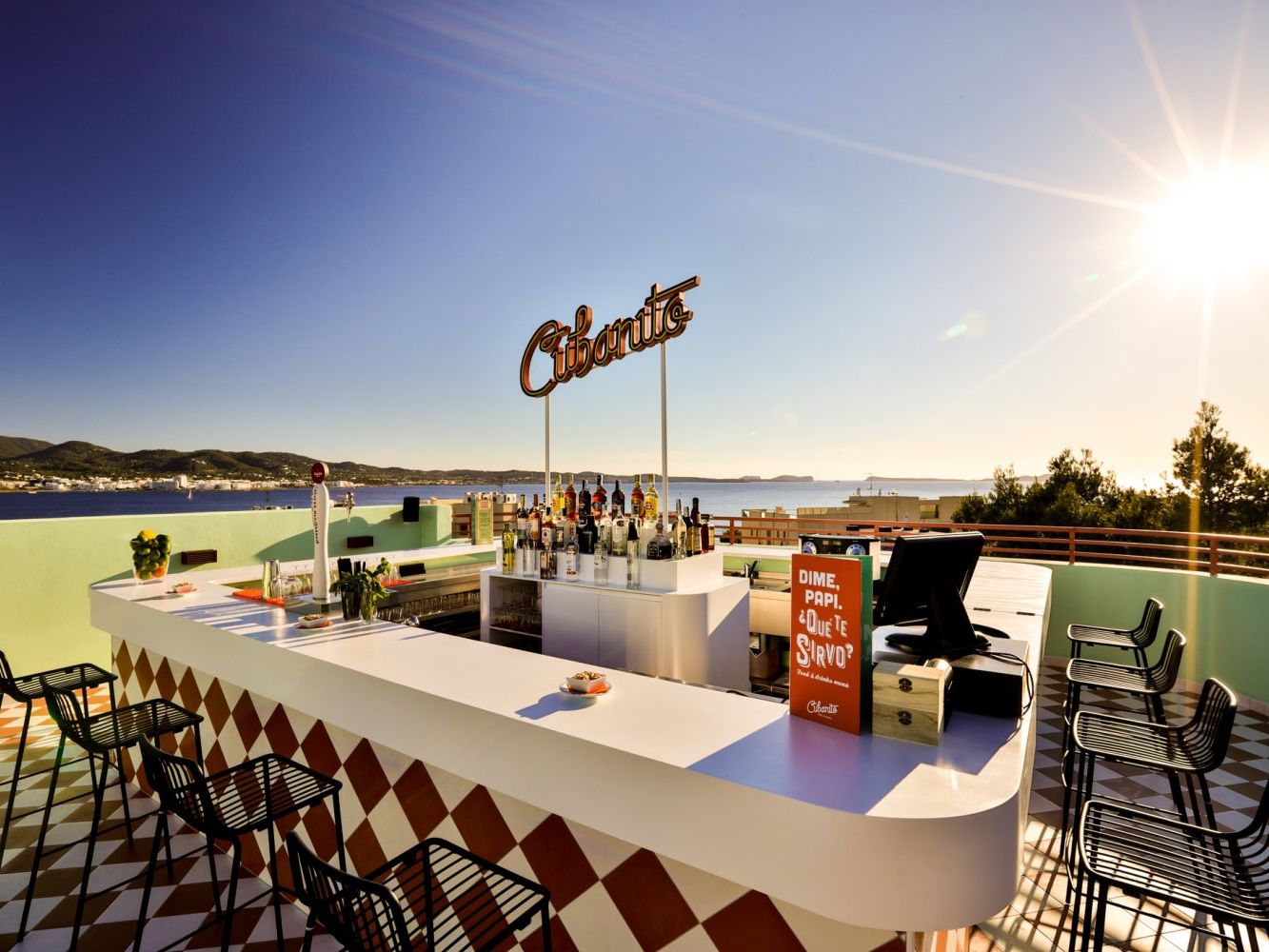 The enchanting Belvue rooftop bar at the Amàre Beach Hotel Ibiza is high on our go-to list. Indulge in signature cocktails by renowned bartender Diego Cabrera, while taking in the breathtaking views of San Antonio Bay and the Mediterranean Sea, for an unforgettable sunset ritual.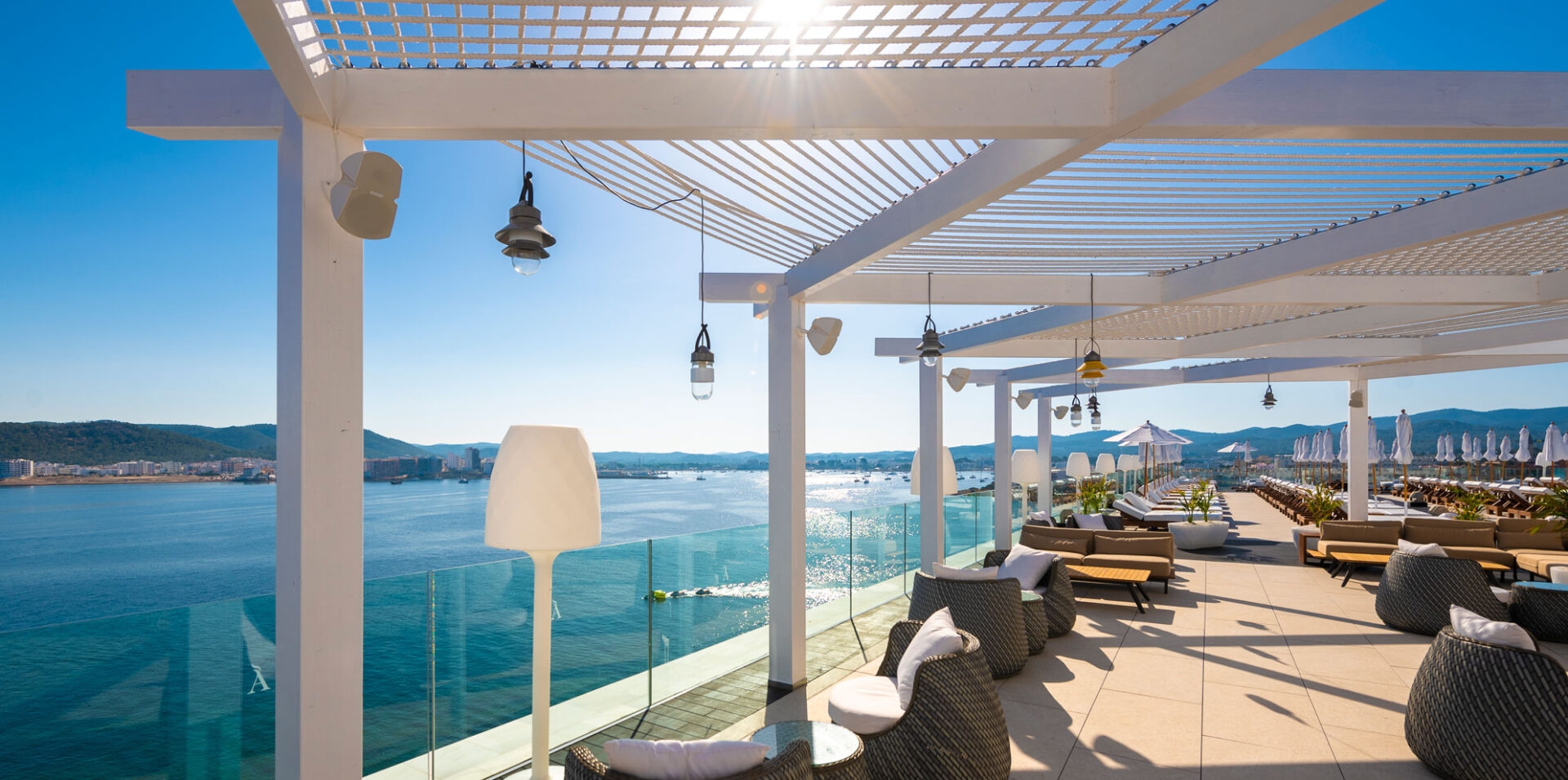 Playa d'en Bossa
You can experience the ultimate in luxury at Hard Rock Hotel's rooftop bar, Ninth, in Playa d'en Bossa. With awe-inspiring 360-degree views of the beach, the salt flats, and the sea, this incredible rooftop bar is a must-visit for anyone visiting the island. Watch the planes fly overhead whilst sipping on cocktails as the sun goes down and the evening crowd grows bigger and more lively.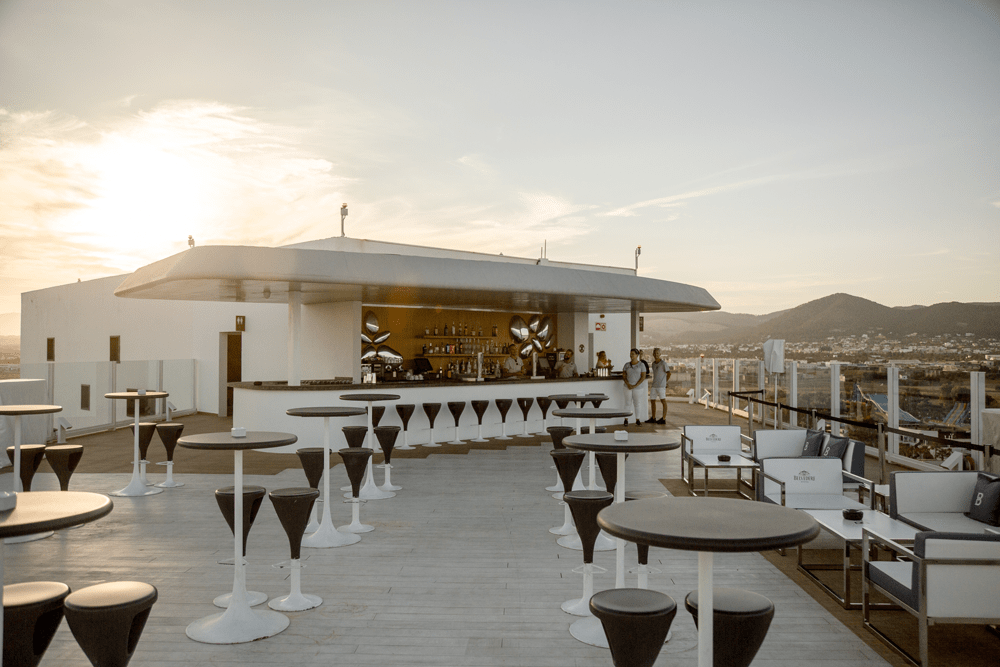 There's nothing quite like a breathtaking view overlooking one of the best open-air super clubs in the world. Up Ibiza Sky Society sits on the top floor of the Ushuaïa Tower. Not only can you look down at some of the world's best DJs entertaining crowds of thousands, but you can also bask in the 360-degree views of Playa d'en Bossa, the salt flats and the surrounding countryside.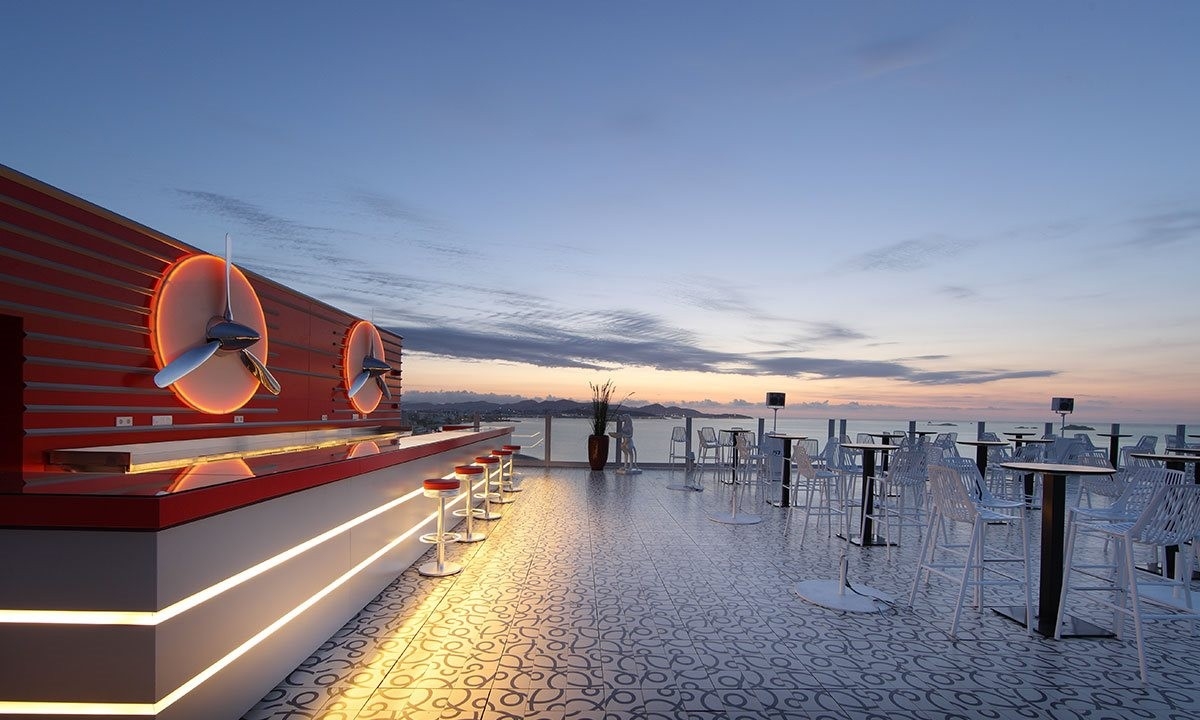 Which bar (or bars) will you choose to visit while you're in Ibiza? With so many to choose from, you may need to stay a while!
---