Who doesn't love a great market? Local markets always deliver the goods when it comes to finding the right gift for that person who has everything, the perfect memento to commemorate a trip, the ideal bric-a-brac to fill your shelf or that piece of jewellery you never knew you needed. Markets in Ibiza have a long and storied history and any local or holidaymaker needs to visit every single one of them at least once a season.
Las Dalias – the original hippy hangout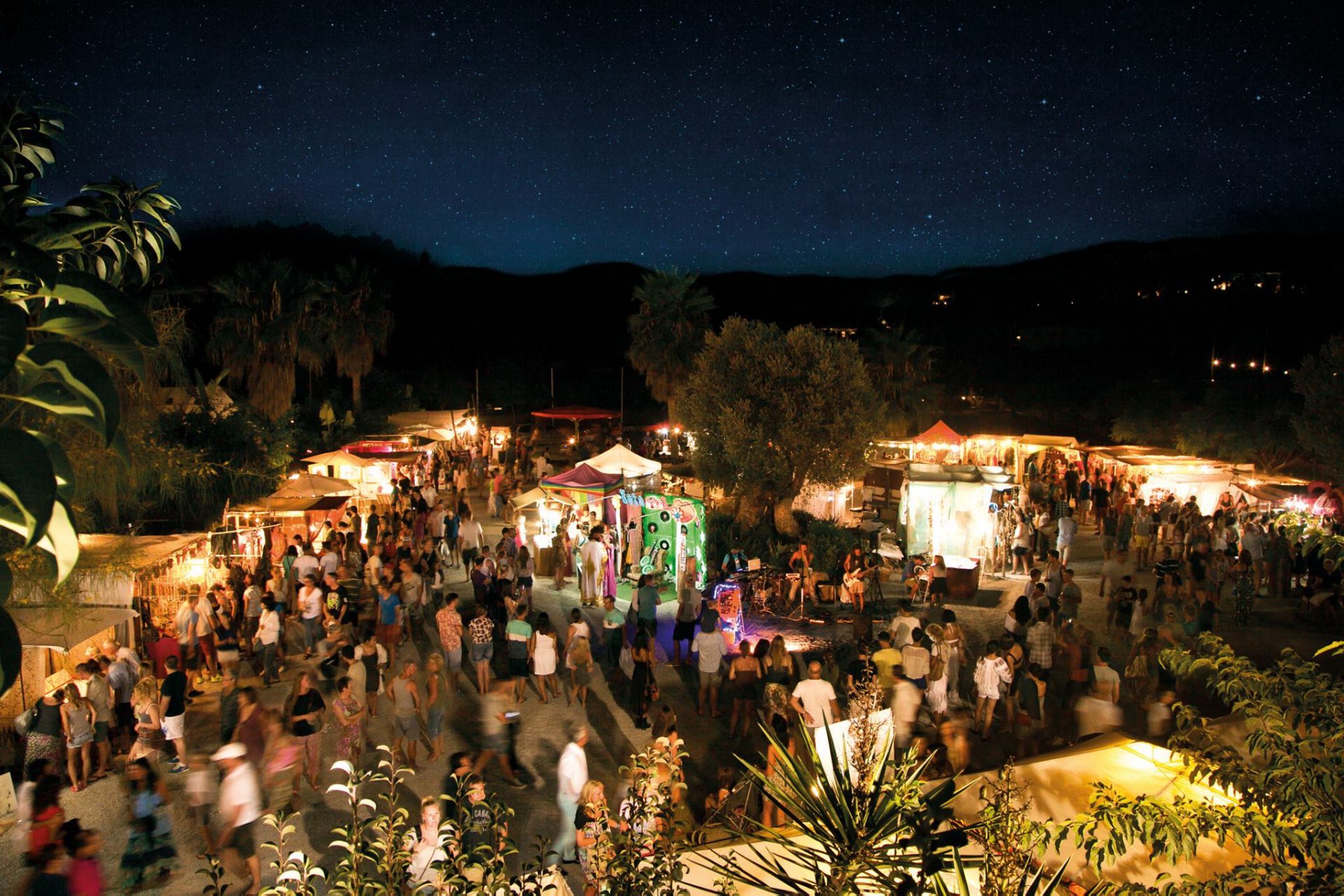 Located on the road to San Carlos Las Dalias was the forerunner in counter-culture chic. Established in 1954 as a live music venue, it had one of the first dancefloors on the island. It became 'the' place to celebrate weddings, baptisms, communions and anything else that occurred to the local populace. When mass tourism hit in the 1960s, it transformed into a dinner and show restaurant catering to the tourists flooding in from Europe and the US. When the hippies arrived and set up a market in Es Canar (more on that below) they would end their workday drinking and jamming at Las Dalias. It was frequented by the who's who of 70s and 80s rock royalty and before too long became a market in its own right. Today Las Dalias hosts a weekly Saturday market all year round, a summer night market and its famous Easter and Christmas markets. This island institution also hosts well-known DJs and bands too. You'll find great food, good beats and trinkets from all over the world here.
Punta Arabi, Es Canar Hippie Market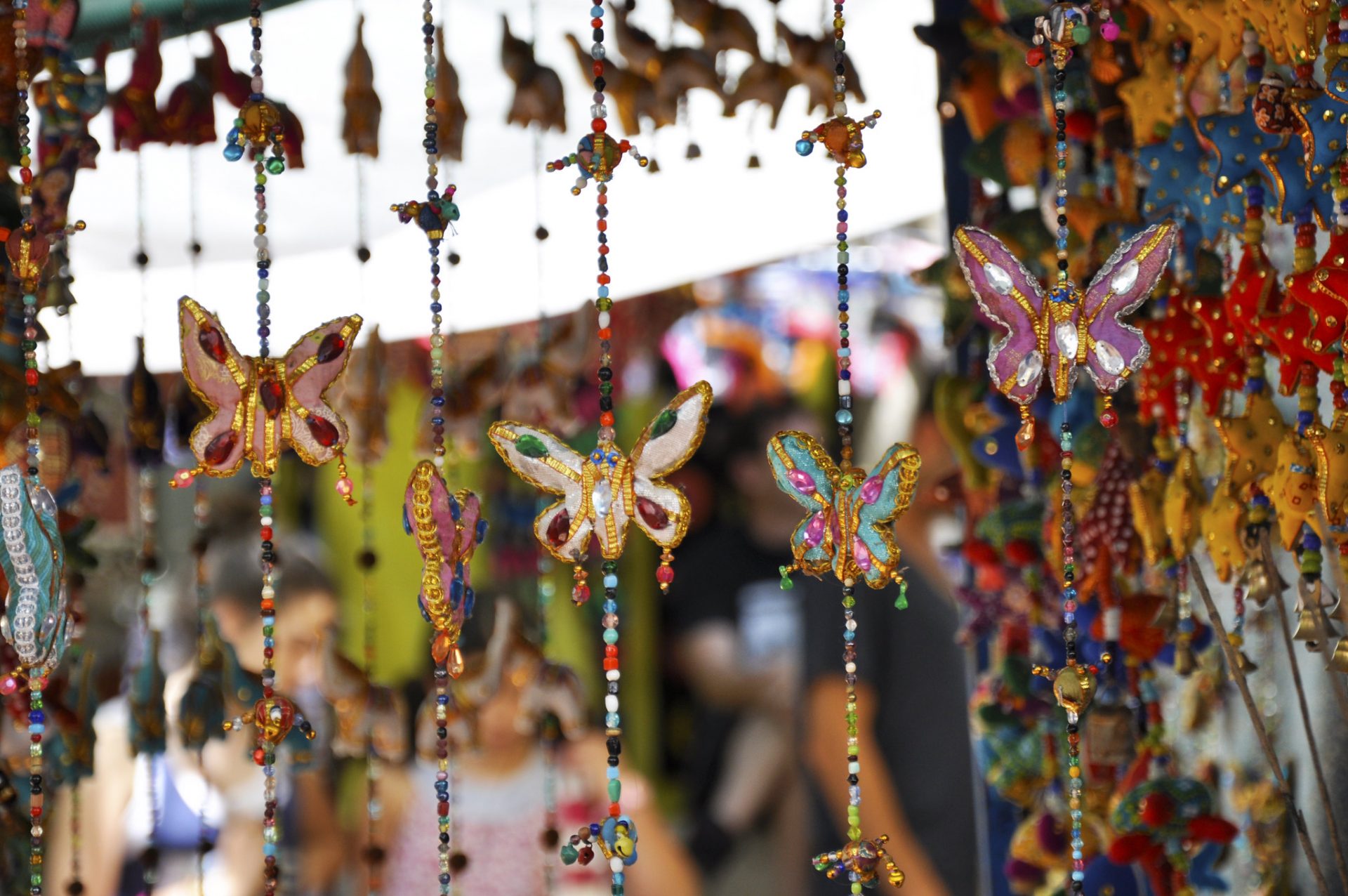 Apparently, this is where it all started back in the day with a dusty lot and a bunch of hippies selling jewellery and clothing they'd brought back from their journeys across India and the Middle East. These days, it's part of the mass tourism trail with busses dropping off visitors at regular intervals every Wednesday to browse the many stalls of trinkets and trash. You're unlikely to find anything unique but it sure is fun browsing and people watching.
Cala Llonga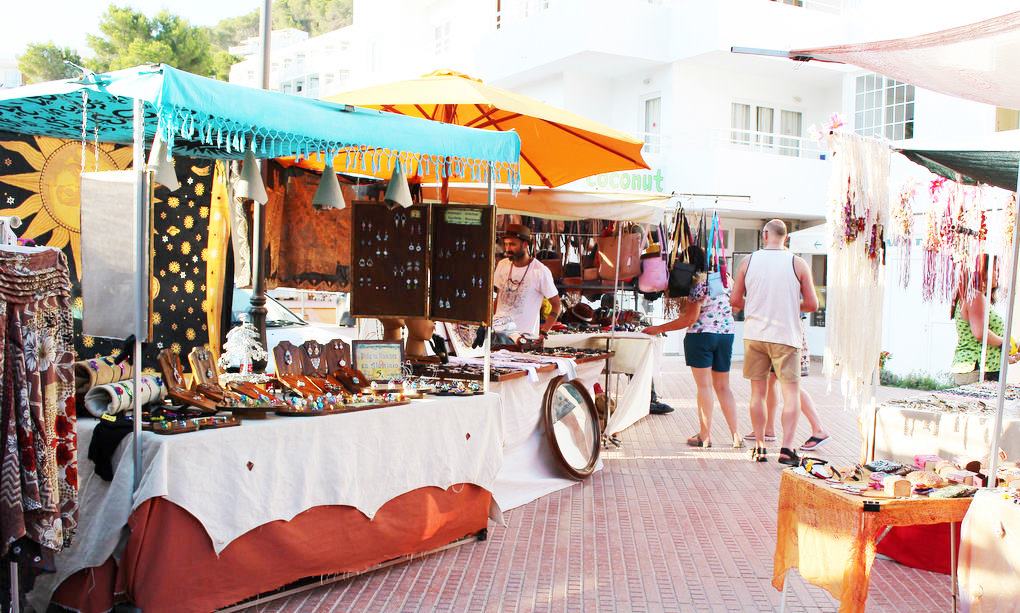 During summer, Thursday evenings see the promenade that curves around the beach host several stalls selling artisanal products made in Ibiza. Skincare, jewellery, clothing, art and souvenirs all with a unique bent are on offer while chilled grooves float across the airwaves from live local bands. Taking a stroll through the stalls is a lovely way to end the day at this beachside location.
Forada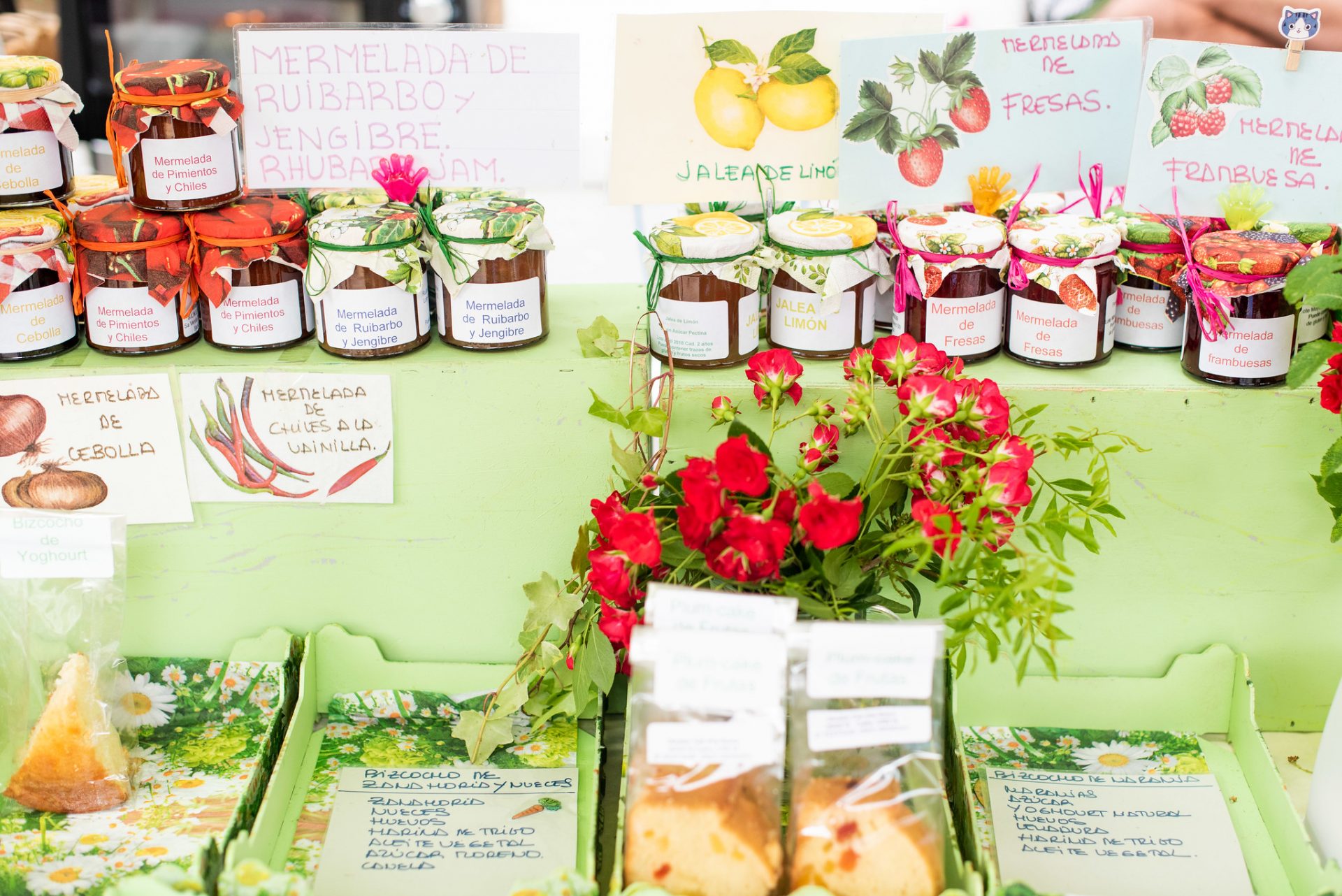 Near Santa Agnes, the Saturday Forada market always feels more like a mini-festival than a market. A focus on ecological produce sees stalls groaning with home-grown goodies, jams, honey, sweets, and baked goods. Nestled amongst the delicious offerings are circus supplies, jewellery, art and clothing. There's a small performance area that has seen acrobats, poets and musicians all ply their trade and a little bar that makes a mean mojito.
San Jordi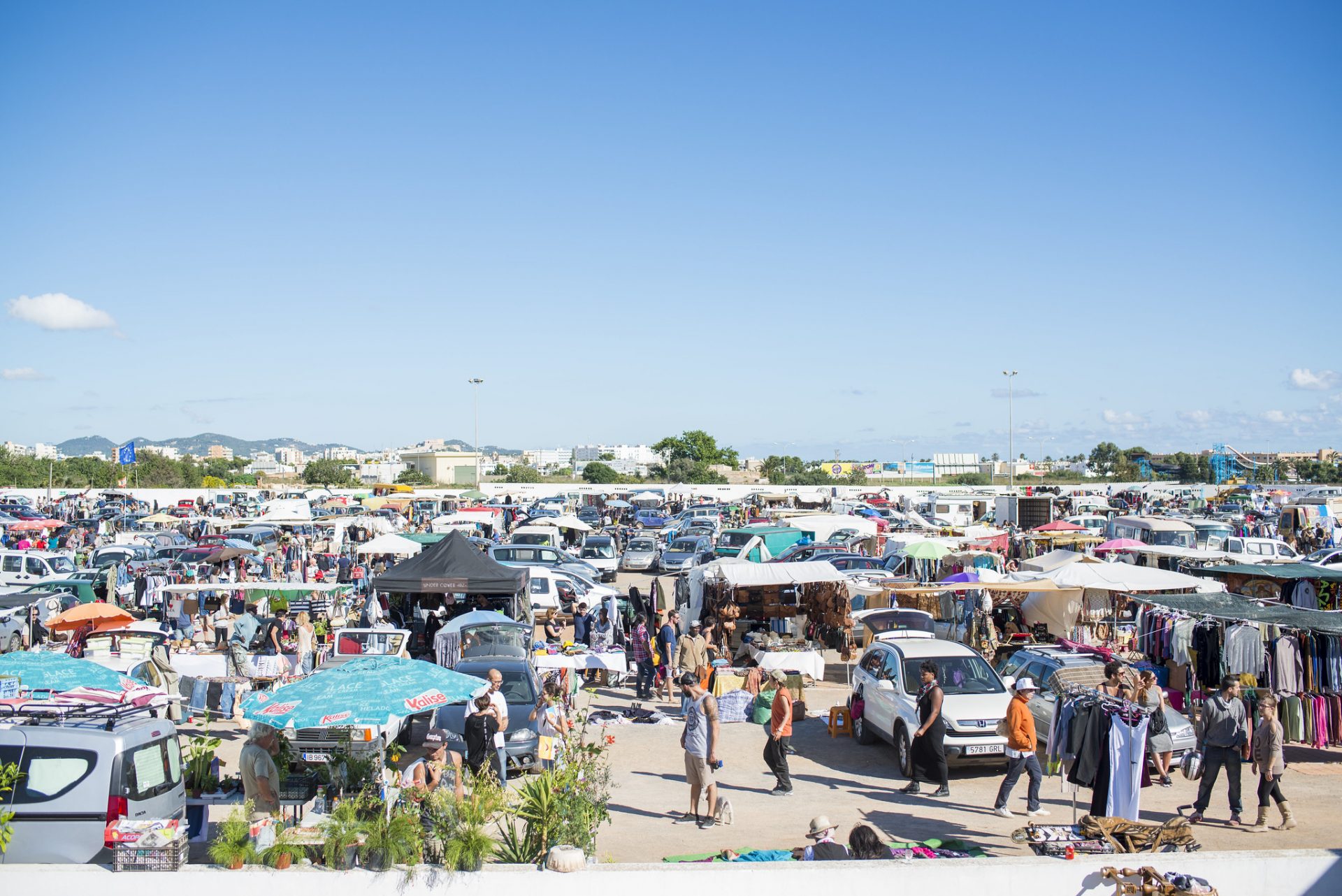 This market is a cousin to what the British call a car boot sale. It's where you'll find second-hand clothing, furniture, and books as well as incense, Indian trinkets, toys and pretty much everything else you ever thought of. It's located in an old hippodrome where drummers are known to line the walls at the entrance to provide a beat for shoppers and browsers. If you've just moved to Ibiza or are moving away from Ibiza, this is where you come to either buy or sell your possessions.
San Juan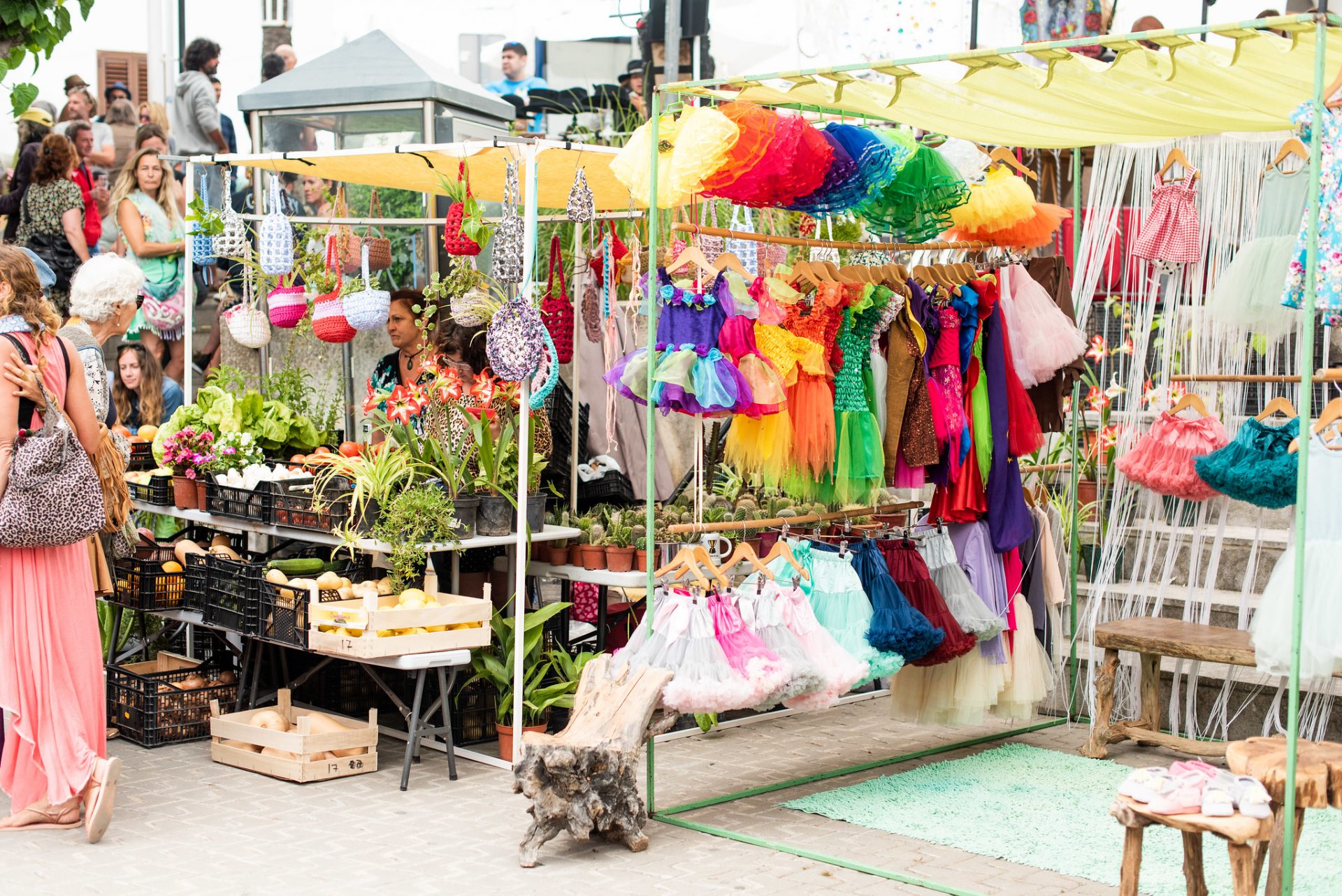 Every Sunday all year round, the cobbled streets of San Juan in the island's north fill with dozens and dozens of stalls selling artisanal goods. The atmosphere is very much like a village fair and space is shared with locals going to church. A hippy vibe reminiscent of the 60s can be caught in the scents wafting through the laneways. Live music accompanies the market where handmade soaps, leather goods, crystals, ceramics and art sit side by side with homemade bread, cakes and fresh produce plus the best coffee on the island at the Café Meke stall. The perfect way to stay perky while you shop!
---