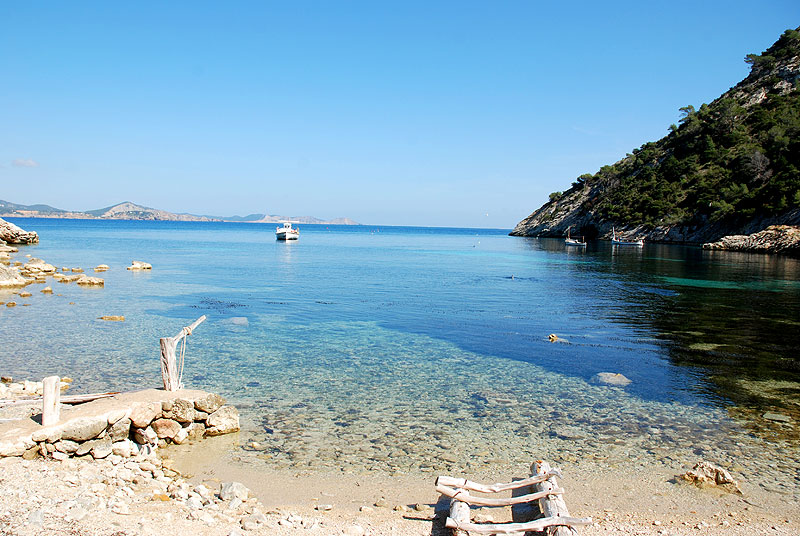 It's impossible to be surrounded by this azure, crystal sea and not take a day or two to explore it on a charter boat. So, grab a few buddies and a boat and head out to some of the more secretive and secluded corners of this beautiful island.
Tagomago
This privately owned island is dotted with caves and some of Ibiza's best snorkelling. You can rent the only villa on the island for you holiday if you're happy to part with upwards of 100k per week. It comes with its own chopper so it's totally worth it.
The north
Touring the north via the sea presents the most magnificent coastline. Completely undeveloped and totally magical; this is Ibiza in the raw.
Es Vedra
Sure you can see this mythical monolith from the shore but there is nothing like getting up close and personal. Just watch out for the mermaids, they've been known to lure sailors to their death.
Atlantis
Is it the lost city or an ancient Phoenician quarry? No one really knows but it's beautiful, especially from a boat (and much easier to access this way rather than the rocky hike from Sa Pedrera on a hot August day).
Cala Llentrisca
There's a little wooden jetty here perfect for jumping or lounging. This lovely little cove is practically deserted even in the height of summer.
Es Xarcu
Don't confuse it with Es Xarco one bay over (although a stroll there for lunch is recommended). Es Xarcu is tiny and gorgeous. You'll need flip flops to traverse the shoreline but the water here is pure bliss.
---