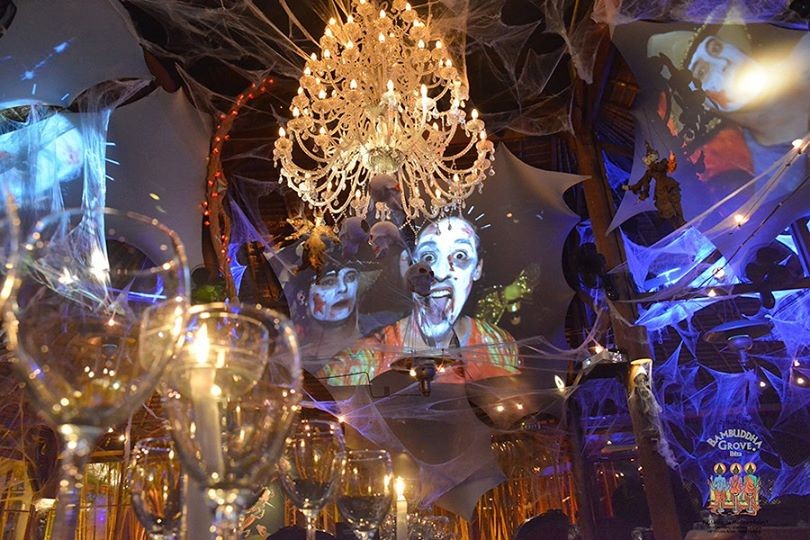 Everyone thinks by the end of October the party is over in Ibiza, but nothing can be further from the truth. The build up to this time of year is immense. You'll overhear children fervently discussing the various merits of costumes and which homes give away the best sweeties. Locals, workers and business owners have finally found a moment to stop look forward to what they think of as 'their' fiesta – Halloween.
In usual Ibiza style Halloween is treated with the utmost creativity and panache. Costumes are serious business and some people will spend weeks perfecting that flawless mix of homemade nonchalance, tacky fake blood and expertly applied makeup. There are so many performers, make-up artists, fashionistas and creative types on the island that Ibiza must be one of the top places in the world to get dressed for Halloween.
The biggest party of the week is Bambuddha's legendary Halloween Ball. This restaurant and bar is transformed into a decadent cavern of depravity where you'll never know who or what will pop out of the spider webs. Costumes are obligatory; it doesn't matter who you are, no get up, no entry. It's like walking onto the set of a Hollywood horror movie.
There are lots of smaller gatherings before the big Bambuddha event as people get together for pre-party shenanigans and to put the final touches on their costumes. Babylon Beach hosts a family friendly Halloween party replete with jack-o-lantern competitions, a visit from a zombie pirate clown, face painting, apple bobbing, stilt walkers, break dancers and any number of frightening delights. Parents often start their night with the kids at Babylon before dropping them with the babysitter and heading onto Bambuddha. It's not unusual to see whole families of the walking dead.
The best place to start assembling your costume is La Cucaña in Calle Aragon in Ibiza town as well as stocking up on accessories at Almacen Wang on the way out of Ibiza and Almacen Baily in Santa Eulalia. Get in quick though; serious Halloween goers buy up the good stuff early on. who owns domain
Halloween marks the transition from the summer season into the more cosy and intimate winter. It's the final party for everyone to let their hair down and it's arguably one of the best parties the Island throws all year.
---