Ibiza's coastline is a meandering stretch of nature's magnificence, showcasing an array of picturesque coves, tranquil turquoise lagoons, and sun-drenched sandy expanses. Each beach showcases various elements of the island's natural beauty, boasting an irresistible blend of warm Mediterranean sun, crystalline waters, and the charm of Spanish hospitality.
Let's dive into some of our favourite beaches on the island that you should visit:
The North
The North of Ibiza is a veritable paradise where rugged cliffs gracefully meet untouched beaches, creating an extraordinary haven of tranquillity that stands as a timeless testament to the island's captivating natural beauty.
Benirras
Best for: a taste of the real Ibiza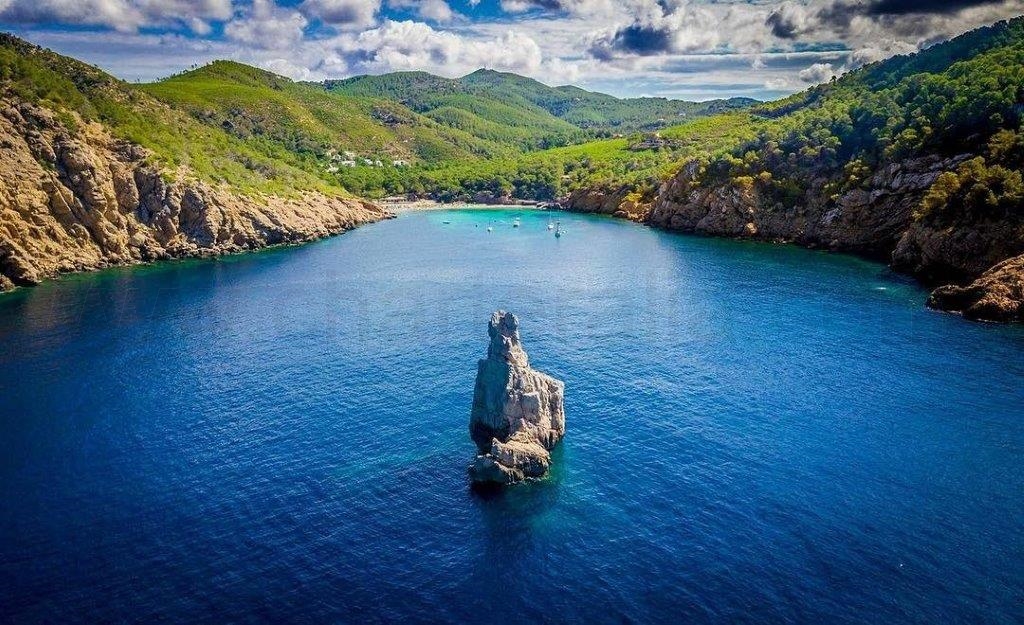 Benirras beach is famous for the island's drummers who are present nearly every night of the week to celebrate the sunset. It's renowned for its clear waters, soft sandy shores, and iconic view of the mystical rock formation, Cap Bernat, and is home to multiple restaurants and bars, as well as a small hippy market.
Cala d'en Serra
Best for: exploring the abandoned hotel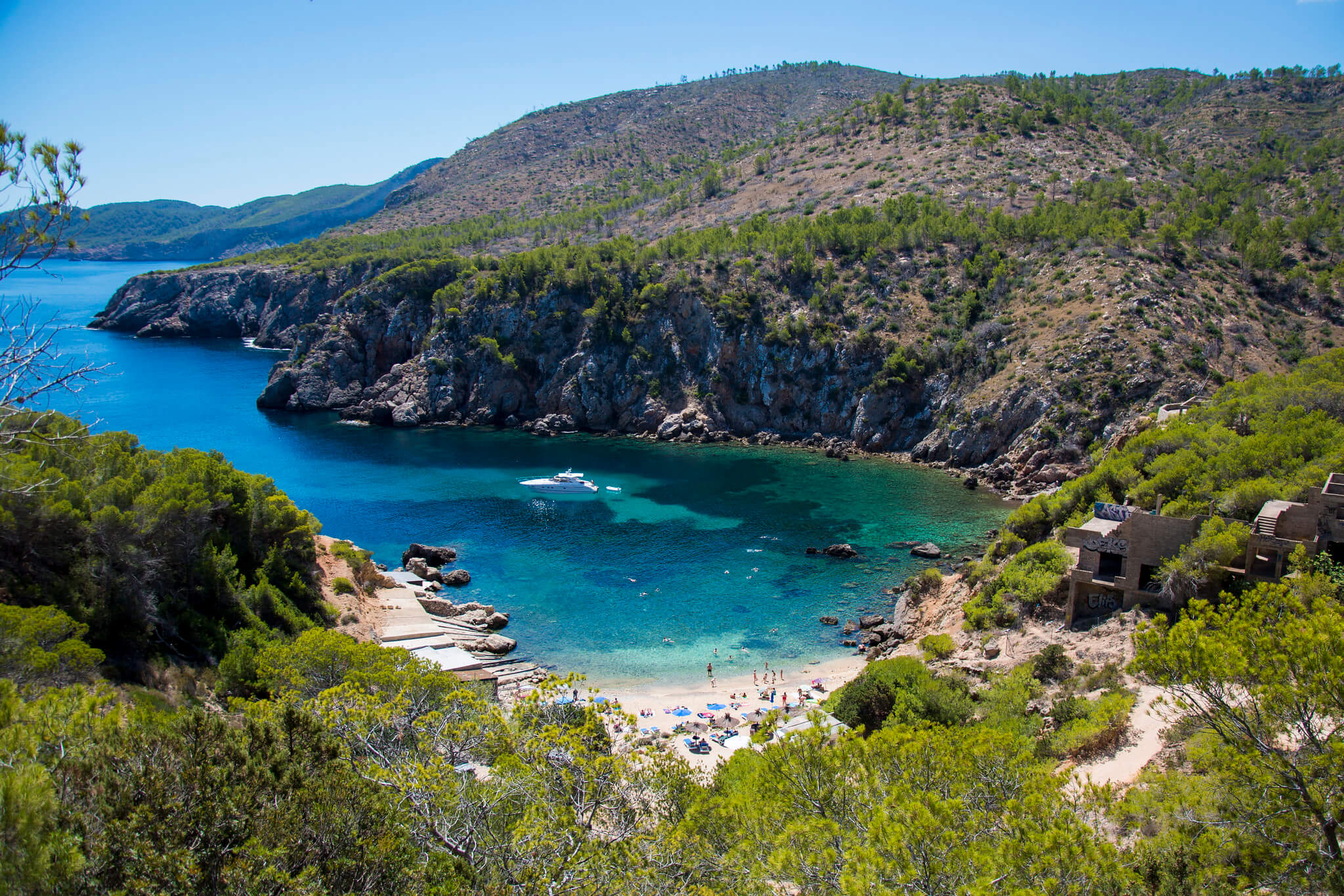 Due to its location, this stunning beach is practically untouched and not very well known. However, situated above is an abandoned hotel from the 70s which is now covered with incredible art and graffiti, drawing more attention to the area. The beach has a chiringuito serving food and drinks, but remember to take cash!
The East
The East of Ibiza is home to some of the main towns on the island, which entices lots of families throughout the year.
Talamanca
Best for: a stroll along the palm tree-lined boardwalk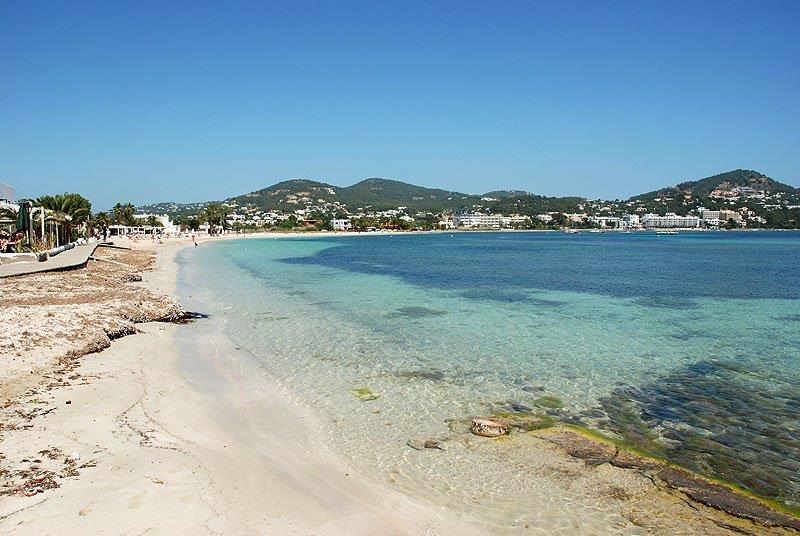 Just 2km from Ibiza Town, Talamanca is a charming resort known for its long, curved beach with soft sand and shallow waters, an insular paradise that offers safe bathing and a quieter atmosphere, enhanced by a selection of bars and restaurants along the wooden boardwalk. You'll find island favourites such as Nobu, The Fish Shack and Sa Punta all in this area.
Cala Martina
Best for: windsurfing and watersports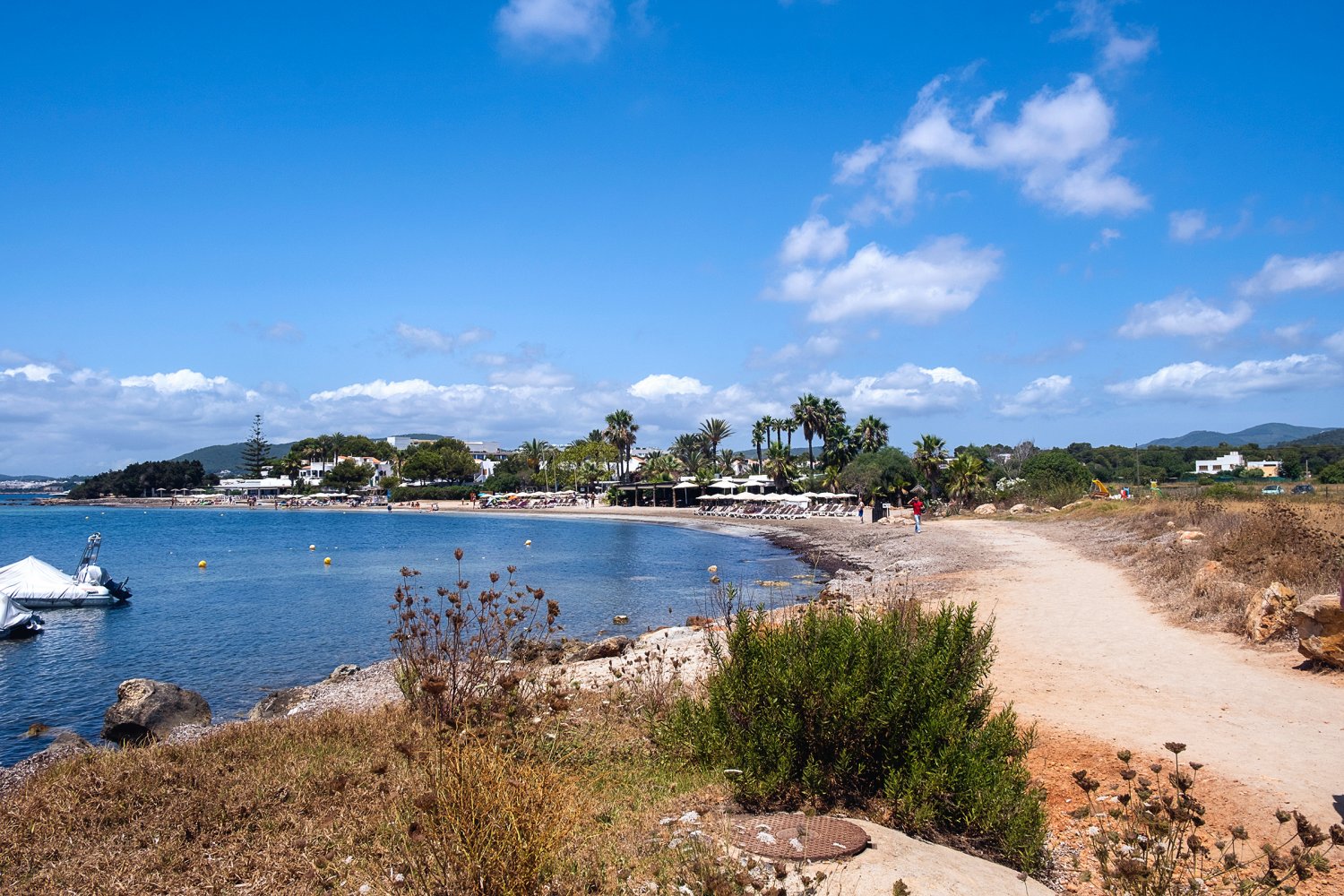 Situated at the southern end of Es Caná, Cala Martina is a family-friendly sandy beach known for its excellent water sports facilities, a popular spot for windsurfers, and its tranquil atmosphere, complete with convenient access to beach bars, restaurants, and accommodation, all while rarely becoming overcrowded, even at the peak of summer.
The South
The South of Ibiza is home to a tantalizing array of secluded coves, dazzling white sandy beaches, and crystal-clear turquoise waters.
Cala Jondal
Best for: boat spotting and beach clubs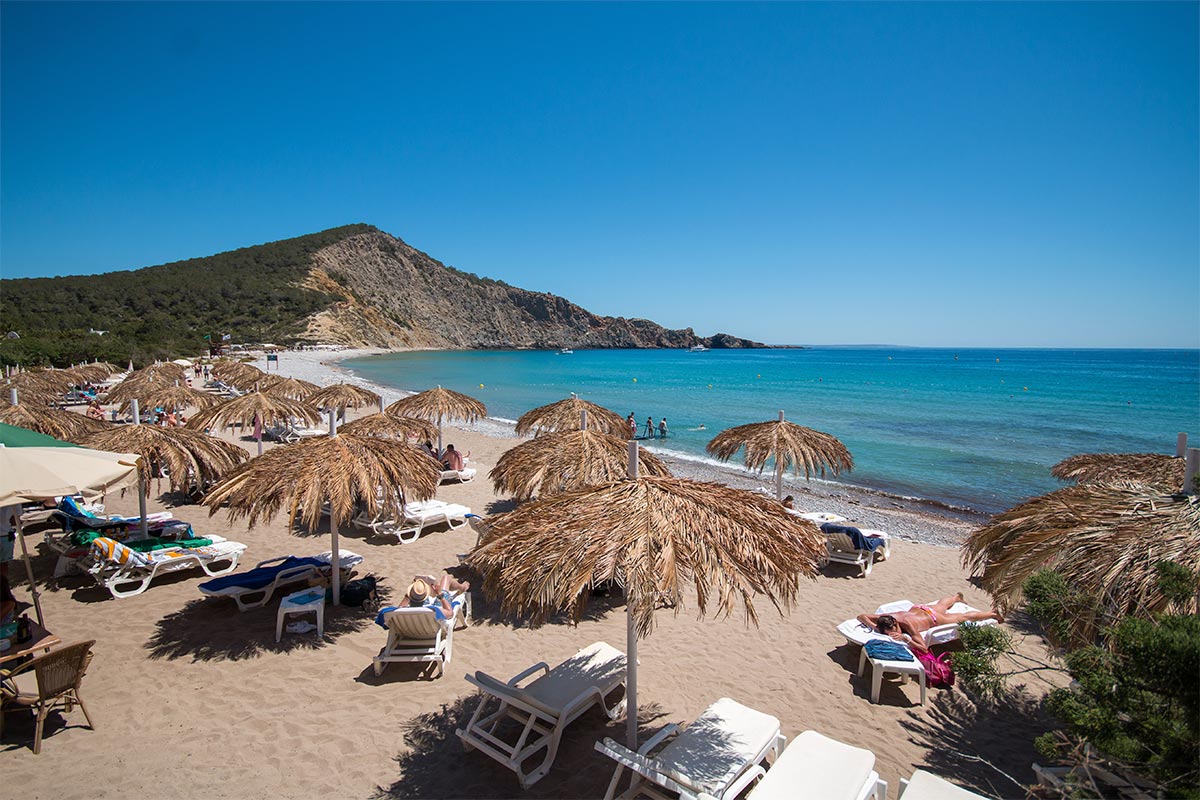 Cala Jondal is a stunning pebbly beach in a protected bay surrounded by pine-covered hills, known for its crystal-clear water and its luxurious beach clubs that attract a chic international crowd. Here you'll find Blue Marlin, Yemanja, Tropicana and Casa Jondal.
Las Salinas
Best for: people watching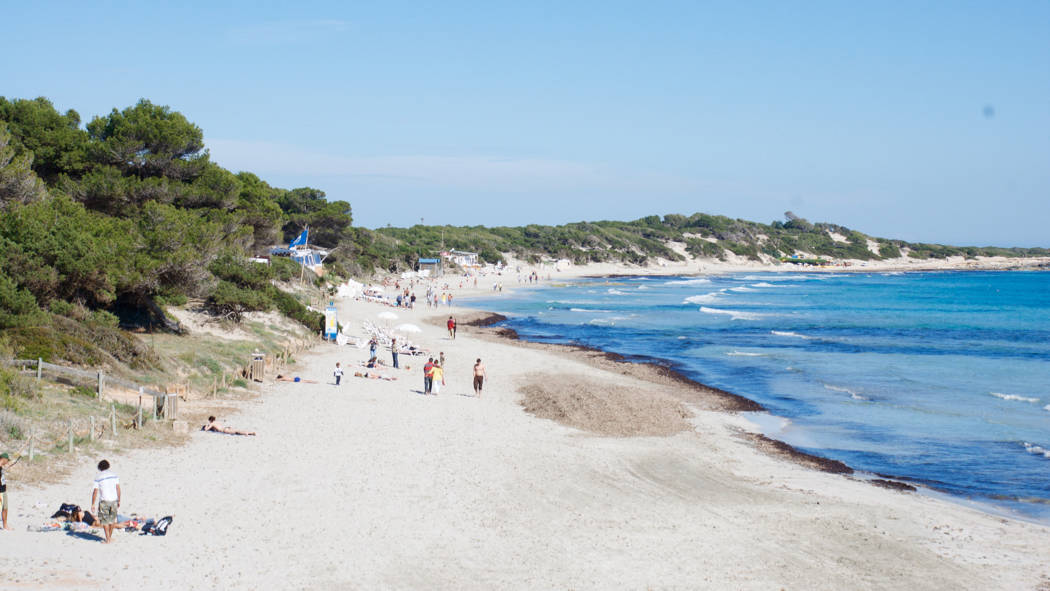 Las Salinas, a trendy beach at the southernmost tip of Ibiza, boasts soft sands and crystal-clear waters – a very popular spot all year round. The beach has an energetic atmosphere with high-end bars and restaurants serving gourmet food and music right onto the beach.
The West
The West of Ibiza is a breathtaking spectacle of majestic sunsets that paint the sky night after night. This also makes some of the beaches on this coastline extremely popular. Here are a couple of gems to add to your list.
Cala Moli
Best for: serene beach picnics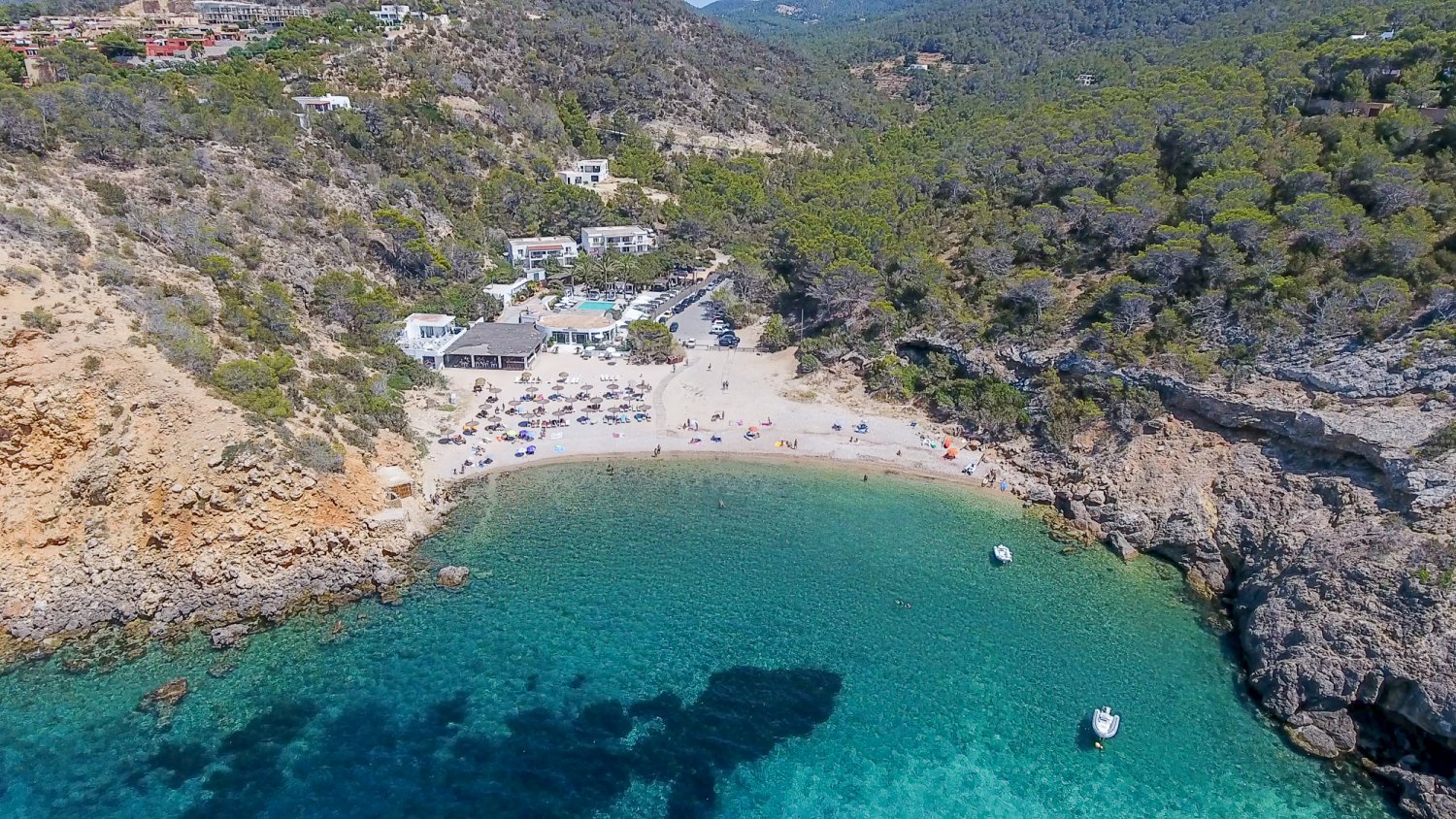 Nestled between the resorts of Cala Vadella and Cala Tarida, Cala Molí is a secluded pebbly cove known for its clear water that is perfect for snorkelling. If you want to treat yourself, head to the luxury beach club, El Silencio, which also boasts a pool. Otherwise, with an absence of other beach bars, pack up a picnic and
Cala Salada & Saladeta
Best for: pristine waters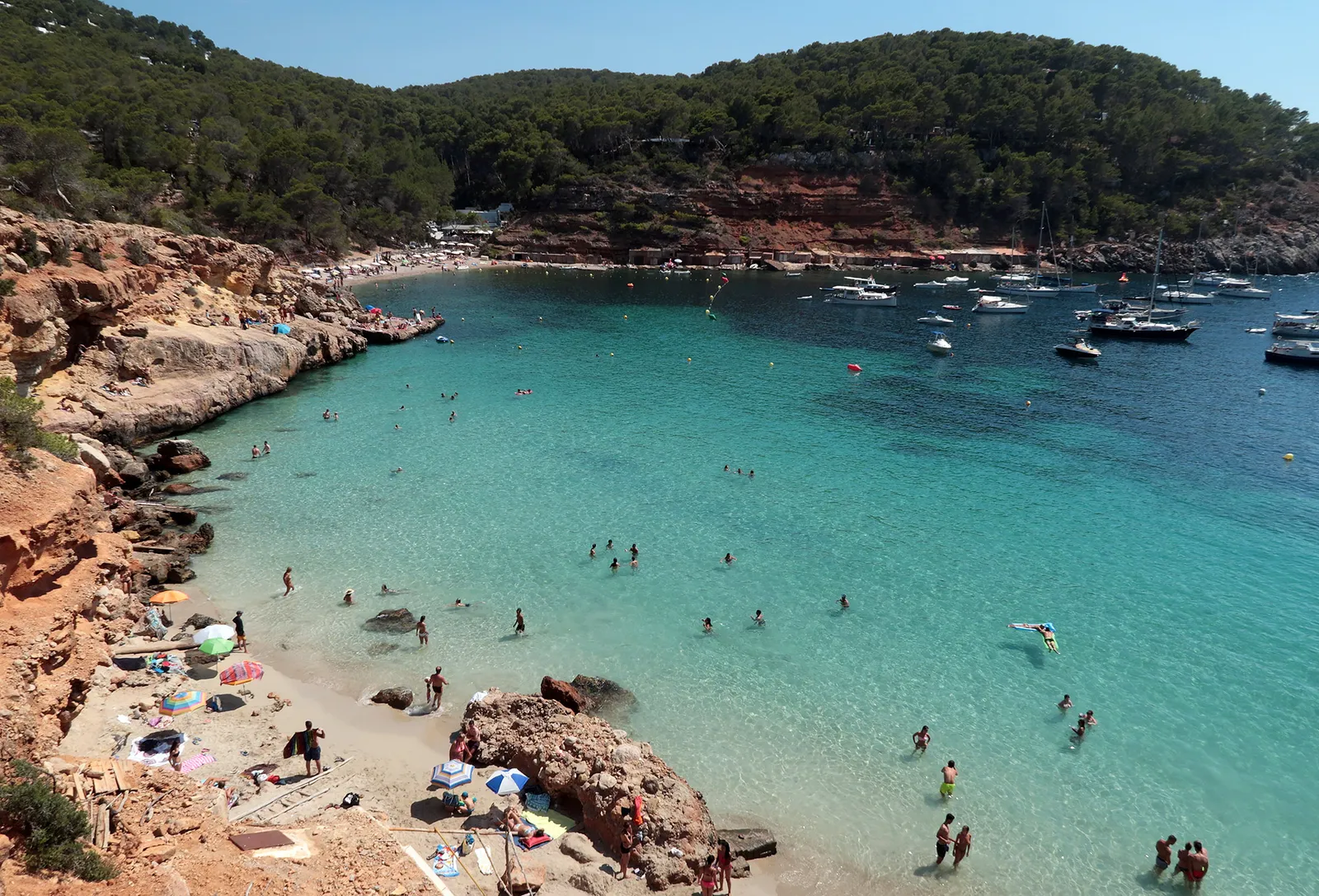 Just along the coast from San Antonio, the picturesque beaches of Cala Salada and Cala Saladeta beckon with their luscious hillside views and azure sea, offering a family-friendly atmosphere or a more intimate setting respectively. Cala Salada can be quite crowded during the summer months, but after a winding path along the rocky cliff on the shore, you'll come to Cala Saladeta, a beach of similar beauty that's slightly quieter.
---